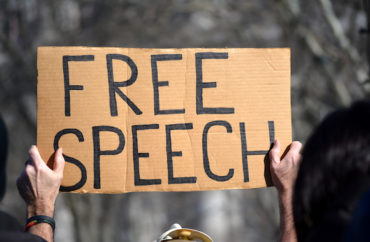 Possibility raises new difficulties for free speech rights
Colleges might use the coronavirus pandemic to excuse censorship against conservatives when students return to college campuses in the fall, citing disease prevention guidelines, free speech activists said Tuesday.
"We're going to have a whole new realm of administrative restrictions and regulations that we're going to have to contend with," Spencer Brown, spokesperson for the Young America's Foundation, said on an online discussion panel organized by the Alliance Defending Freedom.
University administrators often cited security concerns regarding protests when attempting to restrict a campus lecture by a speaker such as Ben Shapiro, Brown said. But now, administrators can just cite warnings from public health officials.
"Are they going to say, well, you can't have a conservative speaker in this venue because we're worried about how many people will show up, and we don't know if we can social-distance them?" he said. "How are we going to be able to say this is a reasonable restriction or this is a viewpoint-based discriminatory action?"
Colleges had been all too eager to restrict campus free speech even before the coronavirus outbreak, often hiding behind policies and codes to justify restricting the speech of students, said Young Americans for Liberty President Cliff Maloney.
He predicted that universities "will use any type of excuse to push back, whether it's to coddle, or whether it's because of a partisan opinion." If the campus is "a level playing field, and all ideas can be heard, I actually think the free market of ideas leads people to our side, to believing the government is not the answer to all of our problems," Maloney added.
While his group has worked with the alliance and Speech First, which challenges bias response policies, to push back in a legal manner, changing the student culture around free speech is also an essential part of the fight, Maloney said.
"Tolerating an idea and being able to allow an idea to be heard, [is] very different from endorsing an idea or putting your name on it," he said. "There's so much emotion [on college campuses] that it's often used to shut down speakers people disagree with."
Speech First President Nicole Neily emphasized that colleges assert control over students in as many ways as possible, even controlling their online speech long before the COVID-19 outbreak. She noted disciplinary hearings continue to take place virtually.
"It's unsurprising that a lot of students have assumed that since they're not on campus … how can they get in trouble?" Neily said. They wrongly assume administrators are "not going to call you in for a disciplinary hearing," when in fact platforms such as Zoom are being used for hearings.
"Student codes often run hundreds of pages, and you're probably not looking at some of the fine print," she said. Fordham University, for example, says it can punish students for "embarrass[ing]" others in email, while Drexel University threatens to refer students to law enforcement for using "offensive language" online.
"Just seeing what some of these schools claim to have jurisdiction over is quite horrifying," Neily said. The policies are written "so broadly and so vaguely" that administrators have "this huge discretionary power to pick winners and losers, and as we have seen time and time again, these administrators are not unbiased."
The restrictions on civil liberties off campus, including freedom of worship, could potentially set a new precedent for civic life under the advertised banner of "stopping the spread" of COVID-19, said Tyson Langhofer, director of the alliance's Center for Academic Freedom. How it affects the campus quad "will depend" on what that new precedent looks like.
The public interest law firm stands ready to help should illegal restrictions on campus speech arise, he said. "Unfortunately, many public universities try to dictate every aspect of a student's life, and I hope that students, when they come back, realize 'I don't have to have my life dictated by the government.'"
MORE: College Republicans confident Syracuse won't cancel Ben Shapiro event 
IMAGE: Shutterstock
Like The College Fix on Facebook / Follow us on Twitter