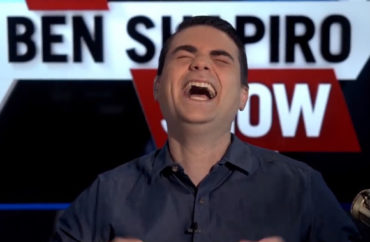 Student government claims Shapiro's past statements violate university policies
In spite of the student government pressuring Syracuse University to ban a conservative pundit from speaking on campus this fall, the College Republicans chapter is confident the show will go on.
In fact, the CRs are more worried about scheduling complications because of the coronavirus pandemic than the Student Association or the administration, Chairman Rody Conway told The College Fix.
Though the administration has a reputation for punishing students for their expression, the CRs have a cordial relationship with university higher-ups in comparison to other student  organizations and activists, Conway wrote in an email.
He alluded to the havoc wreaked on the upstate New York campus as part of the #NotAgainSU campaign in recent months. Student activists, protesting purported racism on campus, occupied administrative buildings even after COVID-19 campus evacuations.
"Given the amount of controversy at Syracuse this past year, we find it hard to believe that the school would seek to alienate … one of the only subsets of the student body (or the alumni who support us) that has any respect or understanding toward the administration or the chancellor," Conway said.
Syracuse media relations did not respond to a Fix query about how the university plans to handle the event, and what security fees or conditions have been imposed on previous events with similarly well known speakers.
MORE: Judge rules Syracuse can ignore its free speech promise to students
Shapiro would create 'an intimidating, hostile, or offensive environment'
The Student Association passed a resolution April 13 condemning the CRs' planned Ben Shapiro event. The student club had received $39,000 from the Finance Board for the event days earlier.
Prefaced by a trigger warning for "Racism, Homophobia, Transphobia, Ableism, Anti-Semitism, Islamophobia, Classism," the 10-page document received overwhelming support, with more than 200 listed "Author(s)."
The body also changed the name of the resolution, which originally dubbed Shapiro a "white supremacist," to simply identify the Orthodox Jew by name. An explanatory note cited "issues other than white supremacy that also need to be addressed" in Shapiro's writing and speaking.
It provides dozens of "Whereas" statements that fault Shapiro for everything from saying "trans-women are not real women" to defending President Trump's description of the novel coronavirus as the "Chinese Virus." (Student leaders find this geographic designation "racist.")
The resolution finally concludes by asking administrators to "take whatever measures are necessary to prevent this event from taking place."
Student leaders claim that Syracuse policy bans Shapiro's appearance because he engages in "hate speech."
The resolution cites the Code of Student Conduct, which bans conduct that "threatens the mental health, physical health, or safety of anyone." Shapiro's stated opinion that "Palestinian Arabs" are "dedicated to an evil cause" specifically violates this section, it claims.
MORE: University suspended CRs because someone said they practiced 'Nazism'
(While the resolution cites this section twice, both references leave out the examples given in the code: "hazing, drug or alcohol abuse, and other forms of destructive behavior.")
It also highlights a code reference to showing "respect for one another" and suggests that Shapiro's campus appearance would violate the harassment policy, by creating "an intimidating, hostile, or offensive environment for study, work, or social living."
(The harassment policy only applies to "Members" of the Syracuse community, not guests such as Shapiro, and it explicitly rules out conduct that is not "objectively severe or pervasive enough that a reasonable person would agree" it constitutes harassment. A "mere offensive remark" is not enough.)
The resolution continues that "hate speech can actually limit free speech" by creating "a hostile and unsafe environment where those who disagree and/or want to defend themselves feel like they cannot due to fear of retribution." This "fear and lack of safety … does not allow for free debate, learning and open discourse."
In a late addition to the resolution, the Student Association says Syracuse won't be affected by President Trump's executive order on campus free speech. (A version archived April 15 does not mention Trump and the executive order.)
As a private university, Syracuse only must "comply with their stated institutional policies regarding free inquiry," the resolution says, quoting the order. In addition to the millions of dollars it receives from the federal government every year, Syracuse was also awarded $9.9 million in coronavirus relief funds.
MORE: Christian university changes course, invites Shapiro to speak
'Assuming they adhere to their own policies,' event will go on
Campus outrage has previously led the Syracuse administration to punish students for speech that it guarantees them.
It indefinitely suspended Theta Tau fraternity pledges who participated in private satirical skits after the video of their performance was leaked, and tried to have them prosecuted. A state court upheld the university's right to ignore its contractual promises to students, citing the same "mental health" provision in the student code that the resolution mentions.
Asked by The Fix why the chapter is so sure the resolution won't throw a wrench in the Shapiro event by putting the same pressure on administrators, Conway said this isn't the club's first rodeo.
He cited the limitations of the student government's authority, the CRs' familiarity in dealing with administrators and good standing among certain alumni, and the wording of university policy.
The Student Association has "no ability to prevent a speaker" and is relegated to lobbying the administration for action. While Conway said "several members of the SA" are doing exactly that, he declined to name them.
Should the Student Association's lobbying succeed, the CRs "will be ready to counter them.," Conway said: "We do not know for certain what they will or will not attempt to do to us, but we feel confident in our ability to handle the hurdles."
MORE: Prosecutor foils Syracuse attempt to prosecute fraternity for satire
The CRs touted their own petition in favor of Shapiro's visit to campus on their Facebook page three weeks ago. Conway told The Fix Thursday night that it had received 196 signatures.
Past negotiations with the administration have left the CRs "familiar with their attitudes and tactics," Conway said, citing the club's planned event with former White House press secretary Sean Spicer. (While the March 26 event was eventually canceled because of the coronavirus pandemic, Syracuse initially banned the public from attending the Spicer event.)
"The only thing that would prevent Shapiro's coming to campus would be a cancellation of the on-campus semester due to Coronavirus concerns," Conway wrote.
He acknowledged that the CRs' confidence is shaped by their assumption that Syracuse will follow its own rules: "The university would not have grounds to prevent a speech by Ben Shapiro, assuming they adhere to their own policies."
Asked specifically about the 2019 court ruling that let Syracuse violate its own policies, Conway said his members are "all aware of the Theta Tau controversy":
We don't think the university is likely to ban Mr. Shapiro on comparable grounds to that incident. That said, we are ready to deal with anything the University is prepared t[o] throw at us. We can spend all day speculating on the exact specifics with which SU will act, but it doesn't change our answer in any event.
MORE: Syracuse fires professor for disagreeing with expulsion of pledges
Justify reversal by saying they had 'very little understanding' of Shapiro's comments
The CRs have already been burned once by self-identified allies.
Ryan Golden and Justine Hastings, the student leaders who first authored the resolution and whose names appear first on it, initially vowed they would support the CRs' plan to bring Shapiro to campus.
Campus Reform obtained a recording of their March meeting with the club, when the duo was seeking support for their presidential ticket. Golden said that as a Finance Board member he "voted in favor" of the CRs' proposal to bring Shapiro to campus in 2017.
While he "disagrees with Ben Shapiro," Golden continued, "I would go to hear him speak, because I don't feel that living in a vacuum of being in a bubble helps me grow." Hastings said that "just because you don't agree with a speaker, doesn't mean you can't just listen to what they have to say."
The resolution tries to get around the duo's praise for hearing different viewpoints by declaring that "Ben Shapiro's hateful, dehumanizing ideas incite ['mental and physical harm'] against members of our community."
While the Student Association and Golden did not respond to multiple email queries from The Fix last week, Hastings and Golden responded to criticism of their about-face in a lengthy April 8 statement. (The Fix received bouncebacks for every student government email except for the Student Association's public relations staffer.)
They only promised to support the CRs' bid to bring Shapiro to campus "if he meets certain criterion [sic]," they wrote, namely that he "must not perpetuate discrimination against any group on this campus." Hastings and Golden said they had "very little understanding" of Shapiro's history of remarks when they met with the CRs.
The duo also apologized for previously criticizing the Student Assembly for not making a viewpoint-based decision to reject the budget request for Shapiro's event. They did not realize that the Assembly is "non-partisan and cannot make personal judgments based on politics," due to "recent changes."
MORE: Syracuse admits it doesn't protect free speech to get out of lawsuit
IMAGE: The Daily Wire/YouTube
Like The College Fix on Facebook / Follow us on Twitter