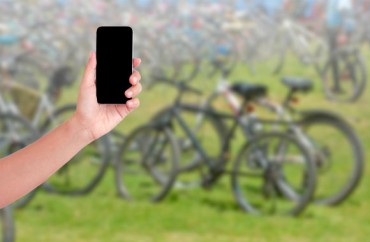 Claim: return rate is seven times higher than national average
College students hate it when their bikes get stolen. Their institutions hate the bureaucratic burden of compiling campus crime reports under the Clery Act.
An app launched in Boston last summer is promising to help students and administrators fight the real and paperwork scourge of campus bike theft.
SAFE Bikes (Safety Awareness For Everyone) currently has 300 users who are college students in the Boston area and it's looking to expand to more campuses, founder Ken Smith told The College Fix in an email.
It has partnered so far with Lesley University Public Safety and the Northeastern University Police Department, as well as the Massachusetts Bay Transportation Authority police and law enforcement departments in Boston, Somerville and Arlington, he said.
One-stop registration and theft reporting
SAFE Bikes works by having users snap a photo of their bike and upload it to the app along with its description and serial number and their personal profile. Police can do the same when they recover stolen bikes. Users can also directly report bike thefts to police through the app.
Users get a sticker mailed to them to put on their bike, but there's no registration requirement to search the app – say, if a person wants to look up a secondhand bike for theft reports before purchasing it.
The app includes a real-time map of reported thefts and also provides tips on how to properly lock a bike with different types of locks.
SAFE Bikes, which is part of the private-property "lost and found" app maker Rejjee, claims to return stolen bikes at a rate of seven times the national average.
The success rate got Rejjee an invitation to deliver a keynote address on bike theft at this summer's International Association of Campus Law Enforcement Administrators conference.
That's still only 14 percent at most – Rejjee cites FBI statistics that less than 2 percent of stolen bikes are returned to their rightful owner – but the company's goal is a 25-percent return rate and 1 million bike registrations by students.
Since app maker doesn't 'data mine,' it may be helping more users than known
Also the head of product for Rejjee, Smith said that though SAFE Bikes has no way to track how many people it has really helped, he estimated that anywhere from 30 to 50 bikes have been recovered since the company launched in August.
"If one user helps another user find a bike" on SAFE Bikes, "because we do not data mine messages" as do more invasive apps like Facebook or the neighborhood social network Nextdoor, "unless someone tells us about it on Facebook … we might not know about it," he said.
One happy user is Lucy Archer, who only uploaded serial numbers and photos of her bikes to the app after they were stolen from her shed and still managed to get them back with the help of Boston police, she told Fox 25.
Rejjee only has "a couple months of data" since launching in Boston, but it's now starting to "promote the program more broadly throughout the country in partnership with Microsoft BizSpark," a program that helps startups with free cloud services, Smith told The Fix.
The company is expanding partnerships beyond Boston-area groups such as nonprofit lobbyist MassBikes and state-run commuting services provider MassRIDES, to rider advocacy groups including the Florida Bicycle Association and New York Bicycle Coalition.
Universities may not want to advertise all those thefts
Despite the benefits of having ready-made crime reports available to campus authorities, some schools have shown resistance to partnering with SAFE Bikes, Smith said.
"University administrations are already struggling with the Clery Act and Rejjee is an open, crowd source[d] property loss reporting platform that lets others on campus, in the community, parents, prospective students, etc. view incidents" – a public image that universities may not want to share.
Universities that partner with SAFE Bikes declined to comment on the arrangements with The Fix.
Though few items have traceable serial numbers like bikes do, Smith hopes students use Rejjee to "register an unlimited number of valuables and report loss right on your phone, in real time," such as easily stolen laptops.
Users can also customize where they want Rejjee to search for the stolen item, such as specific websites, he said: "A lot of stolen goods end up on Ebay."
SAFE Bikes biggest setback so far, according to Smith: "There are a couple of users who have given us bad reviews on the iTunes Store but that's common for any app."
Like The College Fix on Facebook / Follow us on Twitter
IMAGE: Anothai Thiansawang/Shutterstock