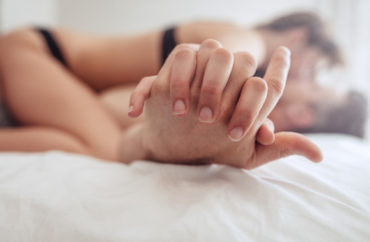 Guys, get out your pink hats.
Feminist men have more sex and engage in a wider array of sex acts than non-feminist men, according to a study of sexual behavior by sociology researchers at McMaster University in Hamilton, Ontario, Canada.
"Feminist men reported having intercourse and both performing and receiving oral sex with women partners more recently than non-feminist men," write researchers Max Stick and Tina Fetner in their paper published late last year.
But "while more and more men from across social divides have begun supporting feminist values and asserting a feminist identity, many are scrutinized for talking the talk but not walking the walk," Stick wrote in The Conversation in April.
Yet according to Stick and Fetner, men who identify as feminists are more likely to engage in more "equitable" practices in the bedroom.
"In private sexual encounters, feminist men and those ambivalent toward feminism, perform sexual behaviours targeting women's pleasure at a higher rate than those disavowing feminism, suggesting these men may care about their partners as expressed through the performance of equality in sexual pleasure," the authors write.
Issues of "sexual equity" have gained traction recently, aided by a 2017 study that shows 95 percent of men achieve orgasms during sexual activity while only 65 percent of women do.
"For context, the same study found gay women get off 88 per cent of the time," wrote Australian sex columnist Nadia Bodoky earlier this year. "In other words, the problem isn't with women or their bodies. It's with men."
The researchers' sample was taken from a subset of heterosexual males in the Sex in Canada survey.
Of the straight Canadian men the researchers surveyed, only 22 percent described themselves as "feminists," while 60 percent said they were not. They also found that in their sample, feminist men were likely to have higher levels of education.
"We encourage further conversation and research addressing inequality in private heterosexual relations," the researchers wrote.
Read Stick's full piece here.
MORE: 'The world's most prominent male feminist' accused of sexism, homophobia toward students
IMAGE: Jacob Lund / Shutterstock.com
Like The College Fix on Facebook / Follow us on Twitter