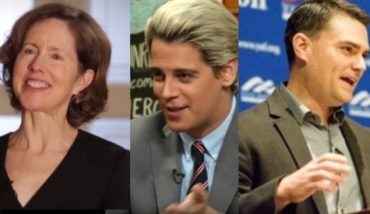 This fall semester on campus there's been several guest speakers who have been targeted with cancel culture campaigns or who've seen their events called off altogether.
Notable cancelations in October include geologist Dorian Abbot from MIT and presidential historian Jon Meacham from Samford University.
One high-profile attempted cancelation this semester centered at Penn State, where students petitioned to have Milo Yiannopoulos be disinvited. Despite the protest, his "Pray The Gay Away" speech went forward last month.
Currently, students and faculty are demanding that Saint Louis University cancel a scheduled speech by conservative Matt Walsh, arguing "his words may instill … fear."
The College Fix recently launched a Campus Cancel Culture Database that tracks all this and more, and it's clear guest speakers are some of the most popular targets for such efforts.
The database shows that the vast majority of speakers shut down, disinvited or protested on campus over the last decade are conservative or tout views that run afoul of progressive narratives, such as climate realism, capitalism or pro-life views.
But there are certain names that, over the years, have frequently sent leftist campus denizens into fits of outrage.
Using the database, here's a list of some of the most canceled speakers on campus in recent years.
Ben Shapiro
In late February 2016, students crammed into the lobby of a campus theater at Cal State University Los Angeles and essentially made a human chain that blocked anyone from entering the venue at which Shapiro was set to speak. The protest was at times highly aggressive and physical. Shapiro ended up giving his speech to a mostly empty auditorium while chaos ensued outside. Shapiro is by far one of the most protested campus speakers of the last decade. There's 14 entries regarding Shapiro in the database, including the time St. Olaf College canceled his talk, calling him too "divisive." Most recently, earlier this month, several groups called for him to be disinvited from his talk at Florida State University, but the speech ended up being a successful event to a packed crowd.
Milo Yiannopoulos
Yiannopoulos seems to attract controversy everywhere he goes. Although he's been out of the scene for a while, his appearance at Penn State late last month shows he may be coming back on the field for more fun. At the height of his popularity, his campus appearances attracted hundreds of students who looked at him as a chance to shun the politically correct orthodoxies that had a chokehold on their schools. He registers 14 entries on the database, including the infamous "night of terror" at UC Berkeley in 2017 that ended up with parts of the campus set ablaze as Antifa protesters stormed the school in anger.
Charles Murray
Murray is a social scientist who pulls no punches with the data he crunches and analyzes. Because of the blunt and fearless way he takes on his topics, he is often vilified and demonized by the left. His most notable campus controversy is, of course, the Middlebury College incident of 2017, which left his colleague in a neck brace after a mob of protesters swarmed the two of them. Murray's forays on campus have earned him eight entries in the database so far, including an incident in 2017 at the University of Michigan during which raucous protesters chanted and interrupted much of the event.
Heather Mac Donald
Mac Donald is another voracious truth teller who refuses to mince words to appease her detractors. Her writings on stats regarding policing, education and race, and other hot button topics, have made her known as one of the best journalists in the nation — and persona non grata among the left. Her campus appearances typically prompt a frenzy of outrage, most famously in 2017 when a mob of students at Claremont McKenna College surrounded the venue and blocked anyone from entering while banging on windows until police told her to cut her speech short. With six entries on the database, she's also been shouted at and shouted down, and administrators are known to offer space spaces for snowflakes when she comes on campus to voice actual facts and data to students who rarely hear them.
Dinesh D'Souza
The author and documentarian is the scholar of color the left loves to hate. Over the years he's been protested or canceled six times on campus, according to the database, including in 2018 when Stanford University told the College Republicans they could not use donor money to pay the whopping $19,000 security fee mandated for the event. He's also been shouted down and targeted by the Heckler's Veto.
Honorable mentions to this list include Christina Hoff Sommers and Condoleezza Rice.
For a full list of all the canceled speakers over the years, check out the Campus Cancel Culture Database here.
Like The College Fix on Facebook / Follow us on Twitter