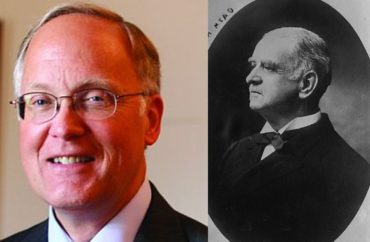 College sought to cancel former governor, even though it also supported eugenics
The estate of a donor to Middlebury College can sue to stop the de-naming of a chapel funded with his bequest, a Vermont judge ruled recently.
Judge Robert Mello greenlighted the lawsuit on behalf of Governor John Mead's estate. The estate, represented by former Vermont Governor James Douglas (pictured, left), argued that the school has a contractual obligation to keep "Mead" on the name of its memorial chapel, in the face of cancellation calls over Gov. Mead's (pictured, right) alleged support for eugenics.
The school removed Mead's name in 2021.
Judge Mello ruled that there was enough evidence to suggest a perpetual naming rights contract had been created.
He wrote:
So far as the allegations of the complaint go, it is apparent that Governor Mead intended to give Middlebury the funds necessary to construct a chapel, and there is at least some evidence that he intended or requested that it be named the Mead Memorial Chapel. Governor Mead's initial written communication with Middlebury includes this: "I desire to erect a chapel to serve as a place of worship for the college, the same to be known as the Mead Memorial Chapel."

Governor Douglas prefers to characterize the ensuing transaction as a contract in which Governor Mead gave Middlebury the funds to construct the chapel in exchange for the right to have that chapel perpetually named the
Mead Memorial Chapel. In the alternative, he asserts that the funding was a gift subject to a perpetual condition subsequent as to naming rights.

Putting aside for the moment the question of whether a perpetual naming right was contemplated at all, Middlebury argues that the transaction must be characterized as falling under gift law rather than contract law.
"The court declines to rule on this issue at this time," Mello stated. "The issue is potentially subtle and will be better addressed on a developed factual record."
Mead expressed support for studying "the use of a new operation called a vasectomy," according to the lawsuit. "However, the claim that Mead's 1912 comments caused sterilizations to happen two or three decades later is factually baseless and legally unjust," as previously reported by The College Fix.
It has since come to light that Middlebury itself had a record, much longer than Mead's, of supporting eugenics. Legal Insurrection compiled various documents that show the school's support, including regular courses on the topic of eugenics.
Former university president Paul Moody also chaired a committee on the "racial stock of Vermont," as reported by the legal blog. "Meanwhile, as the litigation grinds on through the summer, one thing is clear: Middlebury College taught more about eugenics than Mead would ever know," Jane Coleman wrote on June 15.
MORE: Check out the Campus Cancel Culture Database
IMAGES: Coolidge Foundation; JohnMead/LibraryofCongress
Like The College Fix on Facebook / Follow us on Twitter