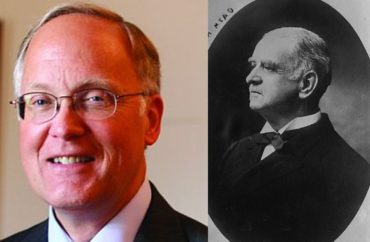 'Learning about Gov. Mead's life and legacy would be more productive than erasing it,' governor says
Middlebury College is attempting to erase some of the school's history by removing the name of the benefactor of the campus chapel, according to a lawsuit brought by his estate.
The chapel, originally called Mead Memorial Chapel, is now named Middlebury Memorial Chapel. The donor, Gov. John Mead, donated "to memorialize the Mead Family ancestors," according to the lawsuit. It is not directly named for Mead (pictured, right) himself.
Former Vermont Governor James Douglas, the administrator of Mead's estate, has filed a 79-page lawsuit against Middlebury College for the name removal.
The lawsuit alleges a breach of contract and seeks damages. Douglas also claims the college is violating a longstanding agreement with Mead's estate and is a case of "cancel culture," according to the lawsuit. The former Republican governor also teaches at Middlebury.
The cancellation came after the university labeled Mead a eugenicist for prior comments he made about vasectomies. Mead, in his Farewell Address of 1912, expressed support for studying "the use of a new operation called a vasectomy," according to the lawsuit. "However, the claim that Mead's 1912 comments caused sterilizations to happen two or three decades later is factually baseless and legally unjust."
"Some permanent explanation of the objections to the Governor's 1912 proposals would be fine, along with some programming to explore the legacies of others whose names would adorn buildings on campus," Douglas (pictured at left) told The College Fix via email.
Douglas suggested the university should instead "contextualize" history, with reference to a book by former Yale Law School Dean Anthony Kronman called "The Assault on American Excellence."
"Among his suggestions is considering the dominant legacy of an individual; after all, nearly everyone's record is mixed," Douglas said. "It's unfair to judge someone based solely on the least favorable moment of his or her life."
"Gov. Mead was a great leader who ably served his community, state & nation. He was generous & a visionary. His dominant legacy is very positive," he said.
MORE: Campus cancel culture experiences wave of vicious attacks
The lawsuit made similar points.
"Middlebury College has proclaimed that Governor Mead was a eugenicist and has implied, without evidence, that racism motivated his proposals," the lawsuit stated. "These charges are without merit and they belie everything we know about Mead's life, the medical, military, and public services he performed, as well as his generous philanthropy to his college, church, and the broader community."
Douglas told The Fix that the cancellation is a form of "presentism."
This is when "we apply today's standards to the interpretation of someone or some event at another point in history. It's not fair," Douglas said.
Middlebury officials did not respond in the past several weeks to requests for comment from The Fix.
A website has been created that further details the lawsuit and Mead's life.
"I'm very concerned that a win by the college would embolden other institutions to continue their erasure of names & removal of statues; regardless of the outcome, it's important to stand up to this sort of thing," Douglas said.
"The College's responsibility is to broaden their [students'] horizons by exposing them to a wider array of ideas, especially those they may find uncomfortable or even offensive," Douglas told The Fix. "Learning about Gov. Mead's life and legacy would be more productive than erasing it."
MORE: Check out the Campus Cancel Culture Database
IMAGE: Coolidge Foundation; Library of Congress
Like The College Fix on Facebook / Follow us on Twitter