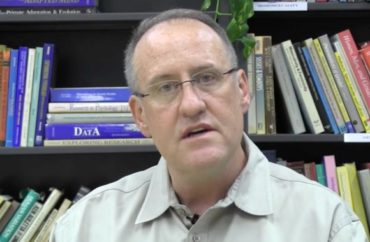 Researcher 'guaranteed' that the study will have 'the potential to establish [Rapid Onset Gender Dysphoria]'
Three researchers who have had their work denounced and retracted under the influence of activists plan to launch an extensive study of gender dysphoria in teenagers.
"We will survey both gender-dysphoric adolescents and their parents, following them for at least five years," Northwestern University psychology Professor J. Michael Bailey wrote Monday in The Free Press.
Bailey (pictured), who will co-author the study with medical doctor and researcher Lisa Littman and research psychologist Kenneth Zucker, "guarante[ed]" that the study will have "the potential to establish ROGD [Rapid Onset Gender Dysphoria]."
ROGD, a term coined by Littman in 2018, "is an explanation of the new phenomenon of adolescents, largely girls, with no history of gender dysphoria, suddenly declaring they want to transition to the opposite sex," Bailey wrote.
"Currently, ROGD is not a formal diagnosis," according to Littman's website. "However, the evidence supporting the ROGD hypotheses has increased since the 2018 publication of the research."
The publisher Springer Nature retracted Bailey's earlier article on ROGD from the journal Archives of Sexual Behavior in June, The College Fix reported at the time.
"On May 5, a group of 100 academic activists and gender clinicians published an online Open Letter expressing 'ethical' and 'editorial concerns' about the journal and 'serious concerns over research ethics and intellectual integrity' of our [previously published] article," Bailey wrote.
"This was a pretext for their real complaint: dislike of certain ideas and the people responsible for them," he continued.
The upcoming study's third author, research psychologist Kenneth Zucker, "is a giant figure in academic sex research," Bailey wrote. Zucker edits the Archives of Sexual Behavior and "helped found the Family Gender Identity Clinic in Toronto, one of the first international centers for the study and treatment of childhood and adolescent gender dysphoria."
Zucker's support for treating gender confusion with therapy has made him the "target of activist ire," according to Bailey.
He continued:
That's because he believes that gender dysphoria is a problem that should be treated, if possible, with psychotherapy to prevent transition rather than drugs and surgery to facilitate transition …

Zucker—like many others—wants to help youth avoid the psychosocial upheaval associated with gender transition and a lifetime of potentially unnecessary medical treatment. His position was almost universal until the past few years. The fact that it has become verboten is the result of a powerful activist movement that has been astonishing both in its effectiveness and its lack of scientific evidence.
"Censors have tried to stop scientific progress before," Bailey wrote.
"Now, as then, the pursuit of truth requires scientists and researchers who refuse to cow to puritans, ideologues and activists."
MORE: Five shocking finds about the 'transgender craze seducing our daughters'
IMAGE: Truth Wins Out/YouTube
Like The College Fix on Facebook / Follow us on Twitter