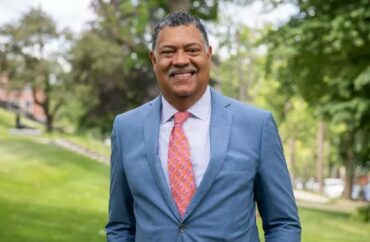 Policy requires K-12 students 'conduct themselves at school in a manner consistent with their biological sex'
The president of a prestigious Massachusetts Catholic college championed his institution's 'values' and LGBTQ policies against his diocese's recently issued K-12 school guidelines.
"Recently, the Diocese of Worcester announced a new policy on gender, sexuality and sexual identity across its 21 schools," President Vincent Rougeau of the College of the Holy Cross wrote in an email to the community shared with The College Fix.
"This policy does not apply to Holy Cross," the president of the Worcester, Mass., private liberal arts college stated.
It "not only challenges our deeply held values, it targets specific identities and people in our community and surrounding county," Rougeau (pictured) continued.
"I look forward to next Friday's Welcome Back BBQueer and to meeting with leaders from Outfront and Pride in September," Rougeau wrote.
Rougeau is the first lay president of the College of the Holy Cross, according to school website. He is "a passionate advocate for an inclusive, mission-driven education."
He has long advocated for LGBTQ groups and affirmation at the school.
"I know that for a long time it was not easy to be an LGBTQIA+ person on this campus," he wrote last spring. "While progress has certainly been made, we recognize that there is still work to be done."
The policy Rougeau rejected applies established Catholic teaching on sexuality to diocesan K-12 schools, according to an Aug. 15 Diocese of Worcester news release.
"While some schools had policies in place, others did not," Worcester Catholic schools Superintendent David Perda stated in the release.
"Individual situations were arising which underscored a need for a single policy which clearly states Church teaching and provides consistent application of that teaching across all our schools," Perda continued.
Worcester Bishop Robert McManus approved it in June. The diocese sent the policy to its Catholic schools to write into their handbooks beginning this academic year.
The policy, titled "Catholic Education and the Human Person," says each person must  "acknowledge and accept" his or her male or female sexual identity.
"These teachings of the Church are not mere antiquated notions," it continued.
"In fact, Pope Francis has repeatedly stressed the importance of a proper understanding of our sexuality," it stated.
"We must always respect the sacred dignity of each individual person, but that does not mean the Church must accept the confused notions of secular gender ideology," according to the policy.
The policy also forbids bullying, requires chastity in educational environments, and mandates students "conduct themselves at school in a manner consistent with their biological sex."
Even more, students at diocesan schools "may not advocate, celebrate, or express same-sex attraction in such a way as to cause confusion or distraction," the document continued.
This policy is necessary because all Catholic Church institutions "must operate in accord with the truth revealed by God in both natural law and divine revelation," according to the document.
The policy applies to more than 5,000 students, NBC reported.
MORE: Famed atheist Richard Dawkins accused of 'transphobia' for saying 'sex is binary'
IMAGE: College of the Holy Cross
Like The College Fix on Facebook / Follow us on Twitter