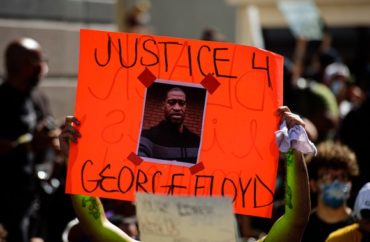 No explanation of what policies she violated
Bishop Ready High School fired a teacher earlier this month after she questioned how George Floyd died.
Neither the Ohio Catholic high school nor the Diocese of Columbus, which operates the school, will explain what policies she violated or provide the context in which the statements were made that led to her termination.
"That's not necessarily true," Deborah DelPrince, a former theology teacher at the school, said in response to a student's Zoom profile photo of LeBron James wearing an "I Can't Breathe" shirt.
James' shirt references Eric Garner, an unarmed black man killed by New York police in 2014. Floyd said similar words during a fatal arrest by Minneapolis Police Department officers in May 2020. The phrase is popular among Black Lives Matter supporters.
James' shirt "perpetuates a myth against police… Lebron James' position is disrespectful to police officers," DelPrince, who has taught at the school since 1999, said.
"I'm sorry, did you just say it's disputed that George Floyd couldn't breathe?" Avinn Williams said.
"Yes it is disputed…by the tape" DelPrince said, when asked by the student who disputed it.
The video cuts off after the student said she is going to stop because she will say something that will get her in trouble.
The Fix attempted to reach DelPrince for comment on her statements in the classroom. The Fix used the format for other Bishop Ready emails to guess what DelPrince's email could be, but received an email with an error message that said the "address couldn't be found."
The Fix could not find social media accounts for the teacher. A local newspaper, The Columbus Dispatch, said its phone calls to her were hung up on when it attempted to reach her for comment.
Diocese investigates over 'unsupported personal assertions and opinions'
The Diocese of Columbus, which oversees the high school, declined to elaborate further on the situation. While it told the Dispatch that it originally placed DelPrince on leave while it investigated her after she "made unsupported personal assertions and opinions," it would not elaborate further for The Fix.
"Ms. DelPrince's personnel matters are confidential by policy," George Jones, a spokesperson for the Diocese of Columbus, told The Fix via email.
The Fix had asked the diocese for information on what school policy DelPrince violated, the school's policy on teachers expressing personal opinions in the classroom and a complete video of the incident.
The high school's interim principal, Rocco Fumi, did not respond to an emailed request for comment in the past week seeking answers to similar questions. The high school did not respond to several other emails sent through its contact page for comment either.
The diocese also told the Dispatch that the teacher's "comments, contrary to school and diocesan guidelines, reflected extremely poor judgment" and that led to a "detailed investigation."
An autopsy report by the Hennepin County Medical Examiner concluded that Floyd died of "cardiopulmonary arrest complicating law enforcement subdual, restraint, and neck compression." Floyd had a "history of hypertension" and his toxicology screening showed he had likely used meth and fentanyl recently. There were also cannabinoids, found in marijuana, in his system.
Former student accuses her of racism
The tweet from Javana Joyce accompanying the video said:
Bishop Ready's infamous Deborah DelPrince strikes again, only this time on camera! my two favorite parts are when she says that "I Can't Breathe" perpetuates a MYTH about police & that the murder of George Floyd is disputed – be careful Debbie, your bigotry is showing 😉
The Fix reached out to Joyce, now a student at Bowling Green State University, via Twitter. Joyce said she did not know who the student who asked the question or who originally recorded the video.
Joyce, a 2019 graduate of the Catholic high school, had said that she found the video on Snapchat.
I also want to clarify THIS IS NOT MY VIDEO – I saw it on Snapchat from a current student and as a BRHS alum took it upon myself to post it to spread awareness of this issue. I had no idea it would blow up so I did not feel the need to say this before.

— javana ✨ (@javanaaaa) February 25, 2021
Despite her own admission that she found it on Snapchat and reposted it, she did not provide a name for the student who responded to DelPrince. However, she did say that this is not the teacher's "first time" saying something controversial, but did not provide another example of a controversial statement from her.
Joyce helped push for a petition that called for DelPrince's firing.
"We want to ensure that everyone who wants to share their story has a voice in this matter since so many of us were ignored before," the petition said. "By bringing out voices together, we can be a strong community of students & alums to make a change here."
MORE: MIT chaplain forced to resign after citing Floyd's rap sheet
IMAGE: Expensive/Shutterstock
Like The College Fix on Facebook / Follow us on Twitter