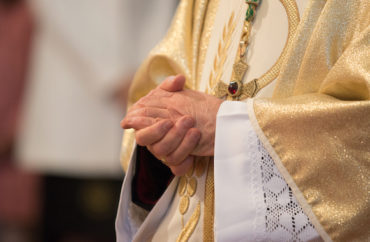 Although the priest argued for forgiveness, the message was lost on students
The Archdiocese of Boston forced Daniel Moloney to resign from his chaplain role at the Massachusetts Institute of Technology after students and alumni complained that Moloney brought up George Floyd's past criminal history in an email to students.
Although Moloney, a Catholic priest, was making an argument that Floyd's past should not justify his death, the fact that he brought up Floyd's rap sheet at all prompted some to protest the chaplain's message to campus officials and file bias complaints over it.
"George Floyd was killed by a police officer, and shouldn't have been," Moloney wrote in his June 7 email to the Tech Catholic Community, a group of Catholic students on campus.
"He had not lived a virtuous life. He was convicted of several crimes, including armed robbery, which he seems to have committed to feed his drug habit. And he was high on drugs at the time of his arrest. But we do not kill such people. He committed sins, but we root for sinners to change their lives and convert to the Gospel," the priest wrote.
" … In the wake of George Floyd's death, most people in the country have framed this as an act of racism. I don't think we know that. Many people have claimed that racism is major problem in police forces. I don't think we know that."
The e-mail was republished in its entirety by New Boston Post.
Although Moloney's argument aimed to promote justice and forgiveness, that message seemed lost on many of its readers.
An article in The Tech campus newspaper reports that MIT's dean for student life, Suzy Nelson, said administrators and the bias response team received reports about Moloney's email.
In an email to student and faculty leaders June 12, Nelson wrote Moloney's message "contradicted the Institute's values" and "was deeply disturbing" and that "by devaluing and disparaging George Floyd's character," Moloney did not "acknowledge the dignity of each human being and the devastating impact of systemic racism" on "African Americans, people of African descent, and communities of color," The Tech reports.
The Archdiocese of Boston told Moloney to resign from his role as chaplain at the school on June 9, according to the Boston Globe. The move came after more than 60 people attended a forum hosted by Tech Catholic Community on June 9, according to the school newspaper.
Terrence Donilon, a spokesman for the archdiocese, told WBZ-TV "While Fr. Moloney's comments should not reflect on the entirety of his priestly ministry, they nonetheless were wrong and by his resignation he accepts the hurt they have caused."
Moloney told the Boston Globe on June 16, "I regret what happened, I regret it was misunderstood, I regret that [it] became difficult for me to be a voice for Christ on campus."
Moloney is a published author at First Things, The Wall Street Journal and National Review. He used to work at the Heritage Foundation as a senior policy analyst for the DeVos Center for Religion and Society. His doctoral dissertation focused on justice and mercy, the subject of a recent book he published as well. He also maintains an active Tumblr page but has not explicitly addressed the controversy on it.
MORE: Conservative prof says seminary used COVID as excuse to get rid of him
IMAGE:Calamity Jane/Shutterstock
Like The College Fix on Facebook / Follow us on Twitter