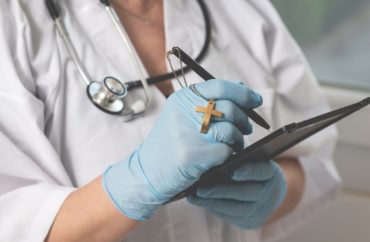 They also don't provide 'trans inclusive care'
The Board of Regents for the University of California recently voted to not renew agreements with Catholic hospitals and healthcare providers over policies against abortion and transgender surgeries.
The vote comes after a state senator, Scott Wiener, introduced legislation with a similar goal, though that bill has remained in committee. The specific language of the regents' resolution is due out in several weeks in August.
The motion to terminate the relationships in 2023 passed at the meeting at the end of June with 21 votes in favor, with only one member abstaining. There were two amendments, both for language clarification, that passed overwhelmingly.
Anne Shaw, a spokesperson for the Board of Regents, has not responded to a media request for comment sent three weeks ago that asked for an explanation of the policy and the religious freedom aspects of it.
The institutions referred to are primarily made up of religious medical institutions that do not perform abortions or gender affirming treatments. The resolution will bar UC health centers from forming new ties with these sorts of healthcare providers.
Current affiliations with violating institutions would be severed by the end of 2023, according to the comments made at the meeting.
"According to a contract between UCSF and St. Mary's Medical Center, physicians are prohibited from performing abortions and hysterectomies and are not allowed to provide contraceptives due to the organization's religious background," the Daily Californian reported.
The College Fix reached out over email on July 6 to the Alliance of Catholic Health Care, which represents Catholic health care providers in California, to ask how they felt about the Regents' decision. Vice President of Dignity Health Dan Loeterman sent a prepared statement in response.
While Catholic hospitals, similar to other hospitals, don't offer every health care service, the services we do provide are available to everyone in our community without discrimination. There are a small number of services that may not be provided to any patient at Catholic hospitals because they are inconsistent with our Catholic beliefs. When a desired service is not offered, we expect the physician to safely transition that patient's care to a facility that provides that service.
Pro-life group calls regents 'discriminatory'
Students for Life of America criticized the decision.
"The choice to caricature Catholic healthcare as 'discriminatory' for refusing to violently kill babies and the utter lack of willingness to even tolerate this Catholic stance exposes the truly close-minded, discriminatory attitude of the UC Board of Regents," spokesperson Lauren Enriquez told The Fix via email.
"We hear a lot about tolerance, inclusion, and anti-discrimination from activists within academia," Enriquez said, "who ironically fail to exercise those values themselves any time they're confronted by a view that diverges from their own."
35,000 to be left without care as a result
Mary Gauvain, a faculty representative on the issue, led off the discussion and said that it would violate "the public trust" to affiliate with medical organizations that do not provide certain services.
Regent John Perez echoed Gauvain's thoughts and encouraged that future affiliations provide care in a "culturally appropriate and trans inclusive manner."
Some regents raised a question about what would happen to the poor residents who used the Catholic facilities currently.
Board of Regents Chair Cecilia Estolano raised some concerns about the motion.
"If we were to bar all affiliations with entities that have policy based restrictions, there would be about 35,000 folks who currently receive care that would not be receiving care, did I read that correctly?" Estolano asked Carrie Byington, an executive with UC Health.
Byington confirmed that number is accurate, based on numbers for Fiscal Year 2019.
Regent Janet Reilly offered one solution, asking "Why don't we swap out" partnerships with restrictions for facilities that "don't have these restrictions."
Perez said "that is an unresolved question," and indicated there is no plan to account for the 35,000 who would be left without care.
MORE: Pro-life student group wants to oust Fauci over aborted fetal tissue research
IMAGE: Florin Deperin/Shutterstock.com
Like The College Fix on Facebook / Follow us on Twitter