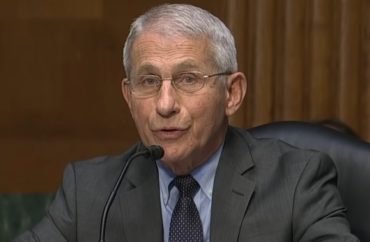 Students for Life has met with Senators to share their concerns
Students for Life Action continues to call for the firing of Anthony Fauci over his role in funding aborted fetal tissue research at the University of Pittsburgh.
"We do not support the continued employment of Dr. Anthony Fauci amidst revelations that his office has been complicit in barbaric, inhuman research," Kristan Hawkins, the president of Students for Life of America and SFL Action said at a June rally outside of the National Institutes of Health.
Hawkins' group continues to petition the NIH to fire Fauci. The effort has won almost 2,000 signatures as of July 12. An email petition drive has gained over 20,000 signers, Lauren Enriquez, a spokesperson with the pro-life group, told The College Fix recently.
SFL Action has even worked with US Senators to share their concerns over the animal-human hybrid experiments. A Pitt spokesperson previously told The College Fix the public university "follows all laws and regulations governing fetal tissue research."
Kevin Zwick, a university spokesperson, did not respond to multiple emails sent in the past several weeks that asked for comment on legal and ethical research safeguards.
The political advocacy sister organization of Students for Life of America has initiated efforts at the federal level to end the research.
"Senator [Mike] Braun has already shown initiative in dealing with unethical research and we communicate regularly with his colleagues who share the same convictions," Enriquez said.
Republican Senators, including Montana's Steve Daines, Oklahoma's James Lankford and Braun of Indiana, had introduced an amendment to limit the federal funding of animal-human experiments, although it failed to gain enough votes to pass.
He has been director of NIAID since 1984. In addition to his connection to the funding of aborted fetal tissue research, Fauci has also faced criticism for his contradictory advice on mask-wearing and his role in downplaying the possibility that the coronavirus leaked from the Wuhan Institute of Virology.
Several efforts have been made in Congress to force Fauci out of his job as Director of the National Institute of Allergy and Infectious Diseases. One bill would reduce his salary to $0 and another would retroactively apply a term limit on the director job.
The College Fix reached out to Melanie Israel through Heritage Foundation's media office and asked for comment on possible legal remedies to get Fauci fired, as well as Department of Justice or Health and Human Services' procedures for investigations into funding. The Fix reached out to the abortion policy analyst through the media office three times in the past several weeks but did not receive a response.
Tom Vasich, the director of research communications at the University of California Irvine, did not respond to questions about regulatory procedures for federal funding. The Fix reached out twice in the past month but did not receive a response to emailed questions. Jill Kay, a research policy director at the public university, had directed The Fix to Vasich when originally asked for comment.
Biden administration has pushed for federal funding on aborted fetal tissue
President Joe Biden's administration restarted federal funding of aborted fetal tissue research, reversing a policy by President Trump's administration that prohibited it.
"We have made our concerns known directly to the Administration by submitting thousands of petitions," Enriquez said. "We would welcome the opportunity to ask for answers on why the Administration is allowing this unethical violation of our taxpayer funding, and reiterate to them the reasons why Fauci needs to be replaced."
Students for Life Action has also considered legal action.
Enriquez said that Students for Life is "looking into this possibility" of legal action.
"We are aware of efforts to deep dive into the NIAID's role in and funding of fetal research," Enriquez said. She said that the pro-life group "plan[s] to continue supporting this effort in any way possible as more information comes to light.
MORE: Catholic university professor undertakes pro-life COVID research
IMAGE: CSPAN
Like The College Fix on Facebook / Follow us on Twitter