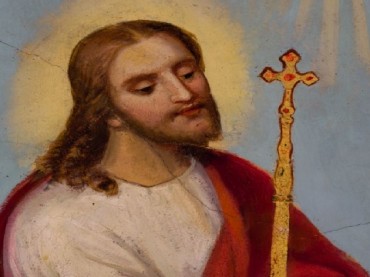 They plan to put 'our bodies and/or privilege on the line in visible, public solidarity'
Eric Garner's dying words are comparable to Jesus Christ's greetings to his disciples, according to a group of Catholic theologians calling for "a serious examination of both policing and racial injustice in the US."
More than 430 theologians from Catholic universities as diverse as Marquette, DePaul, Santa Clara and Boston College; secular schools including Duke and Yale; and priests, high school teachers and other workers for religious organizations have signed the statement as of Sunday night.
It was written by Tobias Winright, a professor at Saint Louis University and former law enforcement officer, and published three weeks ago at Catholic Moral Theology, a hub for North American theologians who "want to avoid the standard 'liberal /conservative' divide that often characterizes contemporary conversation."
"[T]his Advent, hope for a just peace must face the flagrant failures of a nation still bound by sin, our bondage to and complicity in racial injustice," the statement opens.
The document criticizes "the failures of the grand jury process to indict some of the police officers involved" in the shootings of not only Michael Brown in Ferguson, Mo., and Garner in Staten Island, but also 7-year-old Aiyana Stanley-Jones in Detroit four years ago and 12-year-old Tamir Rice in Cleveland last month.
"As Eric Garner's dying words 'I can't breathe' are chanted in the streets, and as people of faith, we hear the echo of Jesus' breathing on his disciples, telling them, 'Peace be with you,'" the statement reads.
Citing Martin Luther King's "Letter from a Birmingham Jail," the statement says the "cup of endurance runs over" again for African Americans: "Our streets are filled with those exhausted by the need to explain yet again 'why we can't wait.'"
Just as King challenged "white moderate" Christians on civil rights , the statement reads, the "challenge to the White Christian community is as relevant today as it was over 50 years ago."
"The time demands that we leave some mark that US Catholic theologians did not ignore what is happening in our midst – as the vast majority sadly did during the 1960s Civil Rights movement."
The signatories pledged to take several actions, including fasting from meat on Fridays through "the seasons of Christmas and Epiphany" next month; "placing our bodies and/or privilege on the line in visible, public solidarity" with those protesting "deep-seated racism"; and pressuring their bishops to bring anti-racist teaching "to the forefront" of Catholic action.
Beyond calling for common police reforms, the signatories call for the establishment of "publicly accountable review boards" to act as a check on grand juries and local prosecutors when it comes to police misconduct. They also want a "Truth and Reconciliation Commission to examine race in America," based on a similar 2004 effort in North Carolina. (Other activists are making the same demand.)
"As part of this commitment, we pledge to continue listening to, praying for, and even joining in our streets with those struggling for justice through nonviolent protests and peaceful acts of civil disobedience," the statement said.
College Fix reporter Nathan Rubbelke is a student at Saint Louis University.
Like The College Fix on Facebook / Follow us on Twitter
IMAGE: JInglis26/Flickr
Like The College Fix on Facebook / Follow us on Twitter