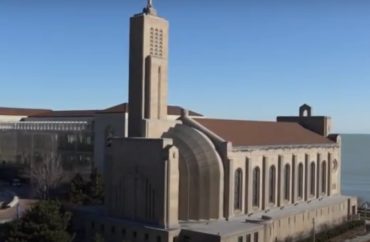 Promises to screen Stations of the Cross submissions for adherence to Catholic teaching
Loyola University Chicago's Catholic Studies program recently deleted a social media post inviting non-religious students to submit creative interpretations of the Stations of the Cross.
It happened after I emailed university officials and the student who posted the message. Two Campus Ministry leaders said that the submissions would checked to ensure they align with Catholic teaching.
"The folks at Madonna della Strada Chapel are looking for student dancers, artists, musicians, writers, etc. to help us create reflection pieces for a virtual Stations of the Cross," the since-deleted February 25 Facebook post (below) on the Catholic Studies page said. The Stations are a representation of the events leading up to the crucifixion of Jesus Christ and are commonly recited and reflected on during Lent.
The post, signed by student Danny Warwick, encourage his peers to submit "a piece of art" to "pose as a reflection on the events/themes/ or feelings of that station."
"You do not have to be religious, Catholic, or connected to the Chapel in any way if you wish to participate and the stations are open to interpretation," Warwick said. He did not respond to an email on Monday morning asking for comment on what he meant about the Stations being open to interpretation.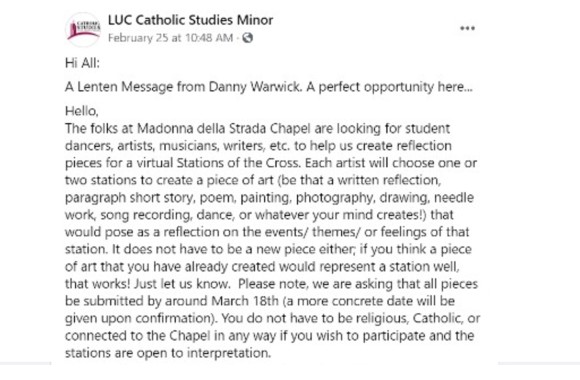 I also asked Warwick if an atheist student or a Muslim student could hypothetically present a work of art that challenged Catholic teaching and if a theology professor would be reviewing the submissions to weed out incorrect statements.
While Warwick did not respond, the director and assistant director of campus ministry did respond to clarify Warwick's comments. Sometime after that, the Catholic Studies program deleted the Facebook post.
"Yes, all contributions by students will be reviewed so that their contribution aligns with the devotion of the Stations of Cross, to enter into Jesus' suffering, abandonment, and death," Lisa Reiter, the director of Campus Ministry, told me via an email on Monday. "Dr. John Paul Salay is one of the reviewers and he has a doctorate in theology from Loyola."
"I might add that just because a student submits a 'piece,' if it does not mean that we would automatically use the piece.  All submissions would need to be sound according to Catholic theology," Reiter said.
"A student, with great intentions of getting the message out, posted without our knowledge and not with the parameters of messaging that we would have preferred," she said, in reference to Warwick.
The official announcement from the chapel, shared by Reiter, said that all submissions "will be vetted for quality and content that is consistent with our Jesuit Catholic beliefs and values, and we reserve the right to not use entries that do not meet these standards."
The assistant campus ministry director, Steven Betancourt copied Warwick into the email thread with Reiter and explained further what happened. "[Warwick] based the post to student colleagues on a verbal conversation we had with him. He now has the complete information," Betancourt said.
"The constraint of time caused us all to work as fast as possible," Betancourt said.
MORE: Loyola requires anti-racism reflection from every department
IMAGES: Loyola Undergraduate Admissions/YouTube; LUC Catholic Studies/Facebook
Like The College Fix on Facebook / Follow us on Twitter