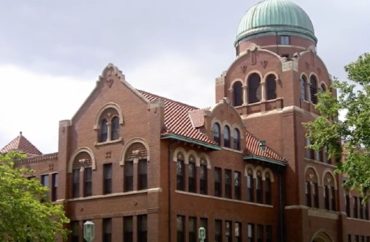 Could backfire and create animosity
A new initiative by a Catholic university that forces academic departments to reflect on anti-racism could lead to animosity between departments.
Loyola University-Chicago mandated this academic year that departments conduct a "racial justice examen" which requires "engaging in deep reflection of current practices around race and racial justice," according to the school's Academic Affairs website. It's part of the school's broader anti-racism initiatives.
An examen is a term popularized by the Jesuits, the Catholic order of priests who started Loyola. It generally refers to a daily personal reflection on one's faults and areas of improvement.
Undoubtedly, the university used this term because of its connection to self-growth and reducing sinful behavior. (Get it? Assigning a Robin DiAngelo video in class or a Ibram Kendi book is just like atoning for drunkenness or lying, apparently).
The goal is for each academic unit, such as the political science or chemistry department, is to figure out its "current location along the continuum of anti-racist organization development."
"This will form the basis for strategic planning in each unit, so that each unit can address their unique issues and create informed goals for growth," the website said.
MORE: Loyola University Chicago explores blacks-only housing
It's highly possible that the "informed goals for growth" will create a degradation of learning objectives or cause conflict between departments.
For example, it's simple enough for the English department or Department of Political Science to load up courses with black and Latino writers. Economics professors can retool classes to focus on racial discrimination in employment, housing or finance and probably meet the university's goals.
Whether that makes them anti-racist or just helps helps them look good is a different story, of course.
But does that mean students should see the chemistry or physics department as more racist than liberal arts programs? After all, a chemistry or physics curriculum will often have a heavier focus on formulas and less on philosophical readings, leaving it with a harder time proving its anti-racism.
How does a university determine the levels of anti-racism in the math department?
Further, it seems plausible that departments will position curricula to pass the anti-racism test instead of focusing on teaching all important topics. It's one thing to offer courses on the Civil Rights movement or black political thought; those are worthwhile topics and could fit into a history, political science or even an English course.
It's another issue if the political science department stops teaching about the political theory of Aristotle and Machiavelli in favor of solely classes on the political thought of racial minorities.
Students will suffer from not learning about other topics, but the university will get good press and professors will feel good about themselves; the future ability of students to find a job in their field and use their knowledge is secondary in Loyola's eyes to what looks good right now in a university tweet and blog post.
MORE: Loyola students can bypass Western civ requirement by taking diversity courses
IMAGE: Go Beyond The Brochure/YouTube
Like The College Fix on Facebook / Follow us on Twitter