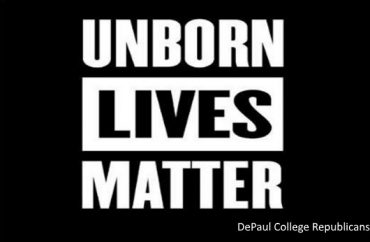 UPDATED
DePaul University has told the DePaul College Republicans they cannot use pro-life posters stating "Unborn Lives Matter" that mimic the style and design of the Black Lives Matter logo.
"While 'Black Lives Matter' posters hang on DePaul administrative office windows, President Rev. Dennis H. Holtschneider has banned College Republicans from hanging their 'Unborn Lives Matter' posters on campus, despite the school being the largest Catholic university in the United States," the Daily Wire reports, noting that according to the university president, the unborn lives posters' message is rooted in "bigotry" and might "provoke" other students.
In a statement to The College Fix, Jorin Burkhart, an executive board member of the Republican club, said that: "We, the DePaul College Republicans, are appalled by the university's decision to censor pro-life messaging and give the Black Lives Matter movement some sort of protected status. Our proposed poster was in no way meant to 'mock' BLM, although we feel that we should be able to criticize the movement if and when we find it necessary to do so. Frankly, DePaul University seems intent on trashing the very Catholic and American values it claims to be grounded in."
The College Republicans have "accused the university of censorship and pointing to what they see as an irony of being unable to put up posters that argue — as does the Roman Catholic church — that abortion is wrong. But the university notes that it is open to the group creating posters with its stance against abortion, but disapproved of [the Unborn Lives Matter poster] in particular," Inside Higher Ed reports, adding:
… Holtschneider, president at DePaul, released a statement in which he said that the Republicans banner "provokes the Black Lives Matter movement." He elaborated: "Some people will say that DePaul's stance unfairly silences speech to appease a crowd. Nothing can be further from the truth. As we experienced last spring, it's not difficult to agree that there is a difference between a thoughtful discussion about immigration and a profane remark about Mexicans scrawled in the quad, or between a panel on racial climate and a noose — a powerful symbol of violence and hatred — outside a residence hall. In both recent cases, the first, we encourage; the second, we abhor."
In response, College Republicans Vice President John Minster told The Daily Wire that "once again, DePaul University has shown its true colors. Rather than standing up for the pro-life and free speech ethics this 'Catholic' university claims to uphold, administration has bent the knee to radical leftists, banning more speech despite the pro-life message."
Ari Cohn with the Foundation for Individual Rights in Education notes that "DePaul's decision to prohibit the College Republicans' poster on the ground that it could 'provoke' the Black Lives Matter movement is a violation of the core principles of freedom of expression and DePaul's own promises of free speech to its students. Unfortunately, it is entirely consistent with the administration's history of shutting down speech that it disagrees with."
"Provocative speech is precisely what the principles of free speech are meant to protect," Cohn added. "Speech that provokes often stimulates the conversations that we need to have in order to advance as a society. If DePaul's version of free speech is 'only speech that does not offend or provoke others,' then DePaul should stop claiming to offer free speech altogether."
Editor's note: This post was amended from its original version to add statements given to The College Fix by Ari Cohn with the Foundation for Individual Rights in Education and Jorin Burkhart, an executive board member of the DePaul College Republicans.
College Fix reporter Peter Maxwell contributed to this report.
MORE: DePaul bans Ben Shapiro from speaking on campus
Like The College Fix on Facebook / Follow us on Twitter