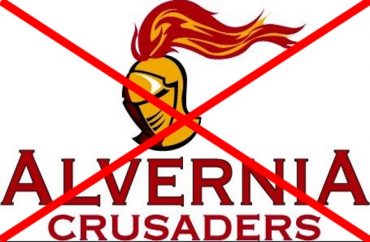 Alvernia University has dropped its "Crusaders" mascot, saying many have found it "troublesome, even offensive."
"Even more important, they view the image as opposed to the peace and harmony of 'right relationships' modeled by St. Francis and the spirit of inclusiveness for which Franciscans strive," officials with the Franciscan-Catholic university in Pennsylvania state on their website.
In a Frequently Asked Questions page, officials reject the notion that the decision is steeped in political correctness.
"It's a matter of being true to our Franciscan mission and our core values of service, humility, peacemaking, contemplation, and collegiality," they state. "This change is also a response to the spirit of peace, harmony, and inclusiveness that Franciscans aspire to and that Pope Francis upholds."
They add the decision was unanimous among student government leaders, the faculty and alumni councils, the Board of Trustees and President Thomas Flynn. The "Crusaders" will remain through the end of the semester and a new mascot is expected to be announced in June.
Most comments on the university's Facebook page suggest people are disappointed with the change. Some suggested new nicknames such as bellyachers or Snowflakes.
MORE: Christian college Nixes 'Crusaders' Mascot, Says It's Too Controversial
MORE: Susquehanna University buckles to political correctness, ditches 'Crusader' nickname
Like The College Fix on Facebook / Follow us on Twitter