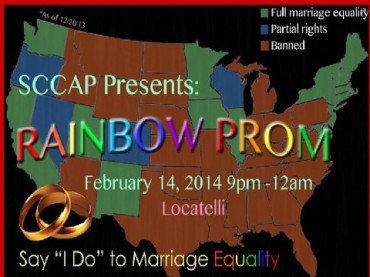 A Catholic university held a "Rainbow Prom" in support of same-sex marriage on Friday, complete with a wedding theme and the tagline: "Say I Do to Marriage Equality."
The event was hosted by Santa Clara University, which states on its website that "as a Jesuit, Catholic university, we are committed to faith-inspired values."
The dance took place Valentine's Day in the $7 million Locatelli Student Activity Center on the Silicon Valley-based campus. Hundreds of students attended the celebration, which included a wedding cake, dancing under a disco ball, bouquet toss and photo booth, according to the event's Facebook page.
Only those enrolled in the Catholic university could attend the event, which was free to students.
"Thank you to all of you who came out to Rainbow Prom last night and made it a night to remember," posted Lauren Farwell, department coordinator of empowerment for the Santa Clara Community Action Program, a campus group that put on the prom along with the campus group GASPED – or Gay and Straight People Educating for Diversity.
The prom's Facebook page also includes images of females student getting down on one knee and "proposing" to other female students, and students posing next to the dance's white wedding cake.
"The event was created in 2010 after a high school student was not allowed to attend a prom with a same-sex date," reports the Cardinal Newman Society's Catholic Education Daily. "The Santa Clara Community Action Program website describes it as 'the hottest, freshest, most inclusive party of the year!'"
While campus officials openly supported the event, not all Catholics are amused.
"This is a school that has lost its way," said Dr. Jennifer Morse, founder of the pro-marriage Ruth Institute and a "Catholic Star of 2013."
"This is a Catholic university in name only," Morse said in an interview with The College Fix. "They support the Sexual Revolution and have abandoned the teachings of the Catholic faith."
IMAGE: Facebook screenshot
Like The College Fix on Facebook / Follow us on Twitter