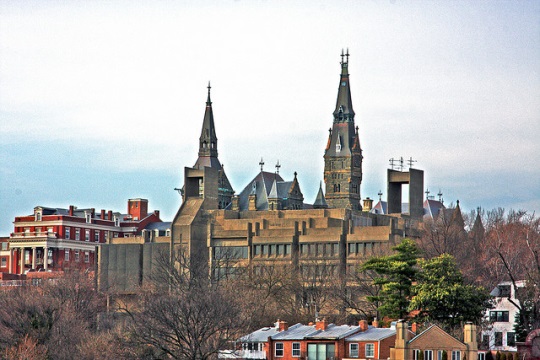 Students at Georgetown University, a private Catholic university in Washington D.C., have elected a Muslim student to serve as their student association president, a first for the school.
"Newly elected Georgetown University Student Association President Enushe Khan will be the first Muslim student to serve as president when she begins her term later this year," The Hoya campus newspaper reports. "Khan's Muslim identity has informed her role in campus activism from her first year at Georgetown. As a freshman, Khan ran for and won a seat on the [Georgetown University Student Association] senate after noticing the lack of halal foods — foods allowed under Islamic dietary laws — at Georgetown."
The campus newspaper reports that in addition to successfully working to get halal and kosher foods to campus dining halls, Khan has also helped expand interfaith programming with other groups on campus, such as the Hindu and Jewish student associations. She has also served on the school's Muslim Student Association.
The Hoya reports that Khan and her running mate — Georgetown University Student Association's Vice President Chris Fisk — essentially ran unopposed; their main opponents dropped out in early February and eventually Khan and Fisk only ran against a few write-in candidates.
Khan and Fisk ran on a platform of "inclusivity" and "socio-economic inclusion" in an election that only saw a 33 percent student voter turnout, the lowest in recent years, the paper added.
RELATED: Muslim Student Association demands all 'Islamophobic speech' be punished
Write-in candidates against the Khan ticket have voiced concern over how the election was handled, telling The Hoya that the deck was stacked in favor of Khan and Fisk, who were already embedded into the top echelons of student government.
"I think Georgetown students are going to be much more interested in looking into the reasons behind why there was only one ticket, why another ticket decided to get into the race so late …," said student Reed Howard, one of the write-in candidates, adding the write-in rules allowed student government officials to throw out write-in votes that might have misspelled a name or formatted something incorrectly.
"Write-in candidates were systematically disadvantaged from so-called 'official candidates,'" added Courtney Maduike, another write-in candidate.
h/t: Breitbart News
Like The College Fix on Facebook / Follow us on Twitter
IMAGE: Ehpein/Flickr