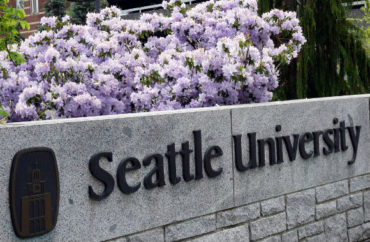 Posting Planned Parenthood logo on their office doors
Stephen Sundborg cited "longstanding policy as a Catholic university" when he removed Planned Parenthood as a recommended resource for students at Seattle University.
Not everyone at the reliably left-wing university agreed with the president's decision, and now the administration is reportedly stonewalling the campus newspaper on the basis for Sundborg's decision.
The Spectator reports that several faculty have challenged Sundborg's claim that support for legal abortion "runs counter to the stance of Catholic institutions, schools and universities like Seattle University."
Theresa Earenfight, director of the Women and Gender Studies Program, told the Spectator that she knows "a lot of Catholics that are pro-choice" and that Sundborg "has align[ed] him with the fringe, not with the mainstream."
The entire faculty and staff of that program published a statement in response that said "Planned Parenthood is essential to the livelihoods of people of all genders, classes and races," according to the paper:
"Some of us [faculty and staff] relied almost exclusively on Planned Parenthood for all of our women's health care needs, some of us while undergraduate students here at SU, some from poorer families, or some simply struggling in grad school to make ends meet. Without Planned Parenthood, we would not have had access to women's health treatment during our college years," the statement reads.
Two Seattle University philosophy professors even wrote a book called "A Brief, Liberal, Catholic Defense of Abortion."
Co-author Dan Dombrowswki, who "self-identifies as a lifelong Catholic" and serves as board chair of Catholics for Choice, said two major Catholic figures – St. Thomas Aquinas and St. Augustine – "believed a fetus was not a person" at least "in the early stages."
The College of Arts and Sciences Advising Center, on whose website the Planned Parenthood referral appeared (below), is trying to undermine Sundborg by displaying Dombrowski's book and "flyers that list Planned Parenthood as a LGBTQIA-friendly healthcare resource" in its office. Some professors have also posted Planned Parenthood's logo on their office doors in protest.
MORE: Catholic university president removes Planned Parenthood from website
The newspaper quoted several critics of Sundborg's decision among students and alumni, and explicitly told readers "it could not find any" social media comments in favor. It asked for op-ed submissions and letters to the editor on the subject.
Sundborg initially gave the cold shoulder to the Spectator, according to the paper, which asked for a copy of the "longstanding policy" he cited because it couldn't find one on the university website:
At this time, the university still has not provided The Spectator with a specific written policy that explicitly references Planned Parenthood, birth control, or abortion in any form. It is unclear if such a written policy exists.

Sundborg refused an in-person interview when approached by Spectator reporters on Oct. 3 and refused a phone interview with The Spectator on Oct. 4 or over the weekend. As a result, the details of Seattle U's policy regarding references to Planned Parenthood remains unclear.
In an email, according to the paper, he said the policy he cited was: "All University policies, practices and procedures are administered in a manner consistent with Seattle University's Catholic and Jesuit identity and character."
(The full text of his email provides a slightly different wording and implies there is not any one policy to which he referred: "Seattle University has long held the view that university policies, practices and procedures are to be administered in a manner consistent with the university's Catholic and Jesuit identity and character. This is reflected within policies listed on our website and is something that has been shared publicly in various ways over the years, although not necessarily known or understood by all members of our campus community.")
Sundborg said he made "the decision several years ago not to include on our website referrals to Planned Parenthood."
In an unusually long editor's note on the article, the newspaper acknowledged "Sundborg's criticism" of its coverage and responded to implications he made.
The president had alluded to the paper's reporting, claiming it "has left certain items open to interpretation and mischaracterization." He implied that the newspaper said he felt "pressured" to remove Planned Parenthood. The editor's note says it never used the word "pressured" or implied it.
Seattle University media relations has yet to answer a week-old College Fix query about whether it has learned who posted the Planned Parenthood resource or who approved its posting.
The Fix sent another request Wednesday also asking for a written copy of the policy and where it can be found.
MORE: Catholic college yanks PP 'career' links after pro-life outcry
IMAGE: alephnull/Flickr
Like The College Fix on Facebook / Follow us on Twitter