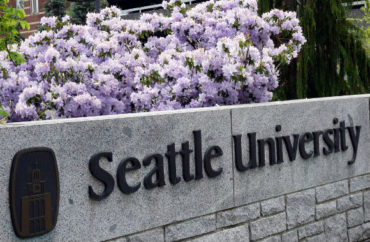 UPDATED
No explanation how it got up there
Seattle University is known for its opposition to debate on immigration restrictions, student protests against "dead white dudes" and removing art because of unproven allegations, but at least the Catholic university is no longer promoting abortion to its students.
President Stephen Sundborg promised to "immediately" remove Planned Parenthood from a student resource web page following a letter from Students for Life of America, the pro-life group said last week.
As part of its "Industry Impact" activism, the group wrote to the Jesuit university about its promotion of "America's biggest, scandal-ridden abortion vendor" to its female students. Sundborg "personally responded" and said the posting was "contrary to the school's policy," SFLA said. "He then declared that it would be removed immediately":
Fr. Sundborg also emphasized that professors or visiting speakers are not permitted to directly advocate for abortion or Planned Parenthood (which are the same thing).
SFLA pointed The College Fix to the College of Arts and Sciences page that formerly listed Planned Parenthood, known as "Resources for Students of Concern." A cached version from Sept. 20 shows Planned Parenthood listed under "Health and Wellbeing."
It also provided President Sundborg's letter, which said university policy prevents Planned Parenthood's listing "as a resource for any Seattle University-sponsored department or club. … We have made sure in the past that there are no referrals listed to Planned Parenthood, so it is good to learn one as occurred [sic] contrary to our policy."
SFLA also asked the university to "create a stricter hiring process" that excludes "employees of Planned Parenthood" and requires employees to sign "a code of conduct that they affirm the school's Catholic values," a spokesperson for SFLA told The Fix. Seattle University has "several employees who had connections to Planned Parenthood."
But the group did not "ask them to fire anyone, only to, moving forward, ensure that all employees supported the Church's teaching on the sanctity of life," she wrote in an email.
The president had responded to "the other items in your email" by noting that "the resumes of professors are a matter of academic freedom" and that their connections to the abortion provider should not be read as "an endorsement of PP by Seattle University." Invited speakers whose "primary subject is not an advocacy" for Planned Parenthood are also free to speak on campus, he said:
I would again like to thank you for your communication to me which has been helpful for me in my oversight as president of Seattle University as a Catholic University [sic]. Let me also thank you for your work for Students for Life of America.
A spokesperson for Seattle University told The Fix that Planned Parenthood "should not have been listed since it ran contrary to our longstanding policy as a Catholic university" but did not answer how the listing made it there.
The university didn't immediately respond to explain how an abortion provider came to be listed on a Catholic university web page as a student resource.
SFLA didn't succeed in convincing another supposedly Catholic institution to stop promoting Planned Parenthood, though.
In another blog post last week, the group said the librarian at The College of St. Rose refused to remove the abortion provider from its "health and wellness" page. Jay Kibby told the group that the college supports "freedom of choice in reproductive health care for our students," and confirmed that he was speaking in his "professional capacity as an academic librarian." He flatly said "abortion is health care."
Kibby also said the college was a "purely secular institution." A spokesperson for the college denied that Kibby was speaking for the college on abortion but rather offering his "personal opinion," but did not respond to Kibby's claim that the college was "purely secular."
The college was founded by the Sisters of Saint Joseph of Carondelet in 1920 and remains "sponsored" by the order. It repeatedly describes itself as "progressive."
UPDATE: SFLA provided The Fix the web page that formerly listed Planned Parenthood. A cached version of the page listing Planned Parenthood has also been added. The pro-life group forwarded President Sundborg's response to its letter and provided a summary of its own letter to the university, as well. Seattle University responded after this post was published, and its response has been added.
MORE: Seattle University contradicts itself on de-sponsoring immigration debate
IMAGE: alephnull/Flickr
Like The College Fix on Facebook / Follow us on Twitter