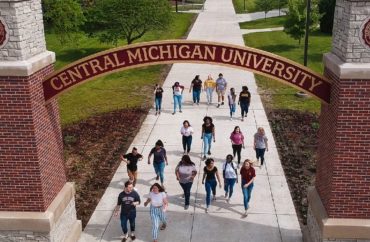 Student said she erased the slurs before anyone could see it, did not take any photos
Central Michigan University officials decried a racial slur allegedly left on a student's dorm room whiteboard – without ever seeing any proof it even happened, according to documents obtained by The College Fix.
The reports, obtained recently through a Freedom of Information Act request, state an unidentified student reported that on September 28 someone had written "F*** this [n-word]" on a "whiteboard…outside their door." The message included the full swear word and the full racial slur.
But curiously, no photo of this even exists, according to the incident report.
"When asking for information on when this could have occurred [the students in the residence hall] said it could have occurred between the times of 9:15 PM- 10:00 PM," the incident report stated.
But this was based on the last time the students remember seeing the board without the slur on it: "Residents from [the redacted hall] also did not take a picture of the whiteboard but instead quickly erased what was written."
Still, university officials quickly sent out an email about how the incident "targeted a Woman of Color and involved language that carries storied, historical nuances that are still lived out today." The residence hall director, Luanne Goffnett, also condemned the incident, though she never saw it either.
"Not only did this incident cause harm to the student resident, it also affects our entire university community, and bears consequences for each of us as active learners, leaders and caretakers of the student experience," stated the message from President Robert Davies, Provost Nancy Matthews, Chief Diversity Officer Shawna Patterson-Stephens and Vice President of Student Affairs Renee Watson.
MORE: No photos, witnesses for Iowa State 'racist graffiti'
The university was "saddened for the hurt and pain this incident has undoubtedly caused this member of our community. It is despicable and inexcusable."
A spokesman for CMU confirmed that administrators never saw any proof of the racial slur in comments to The College Fix.
"We can confirm that no CMU administrator or staff member saw what was written," Aaron Mills said in an email. "The student who reported the incident chose not to involve police and therefore there is no police report," he said, when asked about the absence of a police report.
The Office of Civil Rights & Institutional Equity closed an investigation without any leads, partially due to students not wanting to move forward, Mills said. The Fix reached out to the office directly but it deferred to the media relations team.
Mills said that "following the initial reporting of the incident, [the civil rights office] reached out to several students residing on the floor where the incident took place. No students wished to move forward with a complaint, closing the need for an investigation."
MORE: Two black girls wrote 'All [n-words] should die'
IMAGE: Central Michigan University
Like The College Fix on Facebook / Follow us on Twitter