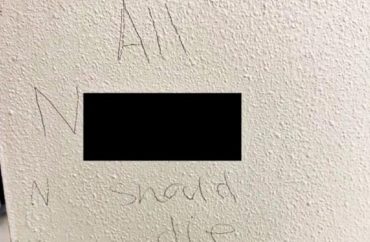 Second hate crime hoax in Sacramento school district this year
Two black girls have been identified as the likely culprits of penciled racial slur graffiti at a California public high school.
The unnamed teenagers "were observed writing a racial obscenity," on March 22, according to the Sacramento County Sheriff's Office.
The incident occurred at Rosemont High School in the Sacramento Unified School District. The students appear to have written that "All n*****s should die."
The sheriff's office reviewed the video and announced that it had identified the two culprits on Tuesday.
The students may not face criminal charges.
"Sheriff's officials said investigators would consult with the juvenile division of the District Attorney's Office to determine whether criminal charges were warranted," the Bee reported.
The school district previously released a statement on March 23 that condemned the graffiti. "Sac City Unified does not take any incident of racism lightly, and that is why we are widely sharing that another act of disgraceful racist graffiti has taken place in our schools," Superintendent Jorge Aguilar said.
"Racist incidents will not be tolerated in our schools," Aguilar said.
The College Fix left a voicemail and sent an email to district spokesperson Alexander Goldberg on Wednesday morning but did not immediately receive a response. The Fix asked if there would be a follow-up announcement about the suspects and if the students would face any disciplinary action.
The district had other racial incidents reported in the past school year.
The Sacramento Bee previously reported:
West Campus Principal John McMeekin has said that the racially derogatory vandalism was directed at Assistant Principal Elysse Versher, who told The Sacramento Bee she found a racial slur written five times on a wall near her assigned parking spot on campus on Nov. 6.

In mid-December, the Sacramento Police Department announced that investigators reviewed "several hours" of security camera video and spotted three people who detectives are seeking to "identify and interview" regarding the West Campus High incident.
This is the second race hoax at the Sacramento school district this year.
A black female student at C.K. McClatchy High School wrote "colored" over one water fountain and "white" over another.
She admitted to writing the words in February.
MORE: Muslim high school student admits to hate crime hoax
IMAGE: Sacramento County Sheriff's Office
Like The College Fix on Facebook / Follow us on Twitter