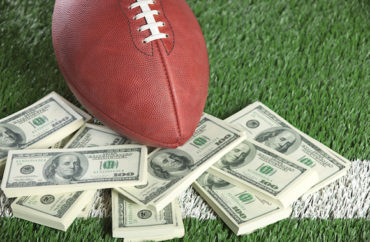 Judge already tossed claims against lawmaker for 'racial animus'
Want to make six figures in a year without doing anything? Just make yourself the center of attention at a football game, to the point where you're removed from the field.
A little over a year after suing Kennesaw State University and Georgia officials for "violation of civil rights," former cheerleader Tommia Dean received a $145,000 settlement from the Department of Administrative Services, the Marietta Daily Journal reported Wednesday. It obtained the Oct. 25 agreement through a public records request.
The agreement says it's intended to "buy peace of mind from future controversy and forestall further attorney's fees, costs, or other expenses of litigation," while clarifying the university admits no responsibility for acting "contrary to the law or otherwise violated the rights of Dean."
Dean's claims against the university stem from its decision to keep her and four other cheerleaders off the field during the national anthem in two football games. They had taken a knee during the national anthem at a previous game.
She claims two other lawsuit targets who were not party to the settlement – Cobb Sheriff Neil Warren and former state Rep. Earl Ehrhart – persuaded then-President Sam Olens to keep the cheerleaders from taking the field. The kerfuffle is widely credited with convincing Olens to resign:
[Dean] claimed Warren and Ehrhart were racially motivated in their complaints to Olens about the cheerleaders' public protest, and that she had since suffered emotional stress.

In February, a federal judge dismissed Ehrhart and Warren as defendants in the case, finding no evidence they acted with racial animus.

That judge's order was then appealed by Dean's lawyers in respect of Warren only, and the appeal regarding the sheriff is the only ongoing legal matter in the case.
MORE: Cheerleader says brief absence from field violates her civil rights
Dean is getting the bulk of the settlement directly in the form of a $93,000 check, while her attorneys are getting nearly $52,000 to cover their fees.
Ehrhart, the lawmaker dismissed from the lawsuit, crowed that his lawyer "crushed the political hack attorneys hired by the KSU cheerleader to perpetrate this fraud and character assassination." Dean had claimed Ehrhart participated in a conspiracy with the sheriff "actionable under the Ku Klux Klan Act," while the lawmaker said he was simply expressing his "personal feelings" about the kneeling.
Once feared by Georgia public universities as the chair of the subcommittee that allocates their funding, Ehrhart had used his perch to coerce them to protect the due process rights of accused students.
He threatened Georgia Tech's state funding in response to its suspension of a fraternity based on a single claim of racism contradicted by video evidence.
Nearly two years before the Trump administration rescinded the "Dear Colleague" letter on campus sexual assault issued by its predecessor, in an interview with The College Fix, Ehrhart shamed universities for "rolling over dead" in response to a directive with "no force of law."
h/t Raw Story
MORE: Ehrhart says 'even third graders' understand due process
MORE: Georgia Tech accused of railroading straight and bisexual students
IMAGE: Dan Thornberg / Shutterstock.com
Like The College Fix on Facebook / Follow us on Twitter