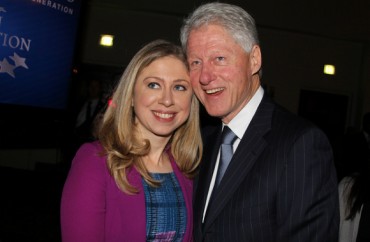 UPDATED
St. Louis campus also bought a golf course  for some reason
Extravagant purchases at two of Missouri's largest public universities have raised eyebrows in recent weeks, with powerful state lawmakers promising to investigate the expenses.
Both universities are deflecting criticism, asserting the expenses were made with privately donated funds earmarked specifically for each purpose. In fact, each university has praised their uses of the money.
The Washington Post reported late last month the University of Missouri-Kansas City had paid Chelsea Clinton $65,000 to speak for a mere 30 minutes at a university luncheon in February 2014.
Days earlier, The Missouri Times highlighted that the University of Missouri-St. Louis had spent $1.4 million this January to buy a golf course, even as it pushes for tax increases.
The two purchases aren't sitting well with two state senators, Republicans Eric Schmitt and Kurt Schaefer, who are running for statewide office in 2016.
"Wonder how many scholarships a UMSL golf course & UMKC Chelsea Clinton speaking fee gets u?," Schmitt tweeted last week.
The Kansas City administration tweeted back at Schmitt, saying a private donor "earmarked $ for this specific purpose [Clinton's speech] only. Most donors place such restrictions."
@Eric_Schmitt @DSteelmanLaw UMKC answer is 0. Private donor earmarked $ for this specific purpose only. Most donors place such restrictions.

— UMKC (@UMKansasCity) July 2, 2015
"In fairness to @umkc, it is cheaper than buying a golf course," Schaefer tweeted about Clinton's speaking fee. (The school's Twitter handle is actually "UMKansasCity.")
An UMSL official directed The College Fix to a January press release, which describes the university as saving Normandie Golf Course – "adjacent to the southern edge of the campus" – after residents expressed fear the course would be bought by private developers.
The school said Normandie is the oldest public golf course west of the Mississippi. "We promised the local community that every effort would be made to keep Normandie as a golf course for the foreseeable future," UMSL Chancellor Tom George said in the release.
At the Kansas City campus, an event organizer justified the expense to the Post, saying "Chelsea was the first perfect fit" and her speech "created fantastic buzz in the community."
The private funding of the speech and golf-course purchase are irrelevant to the two Republican lawmakers, who separately said on Twitter they plan to hold a hearing examining the expenses. Schaefer is chair of the Appropriations Committee, and both sit on a joint committee on "government accountability." It's unclear which committee would hold the proposed hearing.
@UMKansasCity @DSteelmanLaw I look forward to asking some more in depth questions at a hearing in Jefferson City

— Eric Schmitt (@Eric_Schmitt) July 2, 2015
@Eric_Schmitt @calebmjones I think many of the these questions could be answered with a hearing or two.

— Kurt U. Schaefer (@KurtUSchaefer) July 2, 2015
One question might be why the university is asking for a tax increase if it can find funds for such optional expenses. MU System President Timothy Wolfe, who oversees both universities, has called for a statewide tax increase on tobacco to fund a Missouri scholarship fund.
In May, UMSL's George also joined Wolfe in those calls, asking university stakeholders to support the tax increase.
George may face other scrutiny in a Senate hearing. UMSL purchased the golf course just a month after announcing an expected $2 million budget shortfall and instituting a long-term hiring freeze.
While some might see calls by Schmitt and Schaefer for a hearing as a political crusade, they have one influential voice in their corner.
David Steelman, one of the eight members of the Board of Curators for the University of Missouri System, tweeted earlier this month that Schmitt's questions deserve answers.
"[A]s a leader talking about the increasing financial burden of higher Ed  your question deserves an answer," he tweeted to Schmitt.
The Fix could not reach Schmitt for comment regarding the proposed hearing.
CLARIFICATION: The University of Missouri's flagship campus at Columbia, often associated with the slang "Mizzou," was not the MU campus that hosted Chelsea Clinton's talk. The headline has been amended to reflect this.
Like The College Fix on Facebook / Follow us on Twitter
IMAGE: lifescript/Flickr