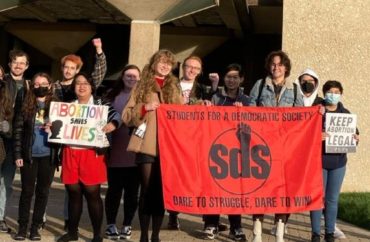 'Abortion saves lives,' one activist says
Socialist students at the University of Illinois-Chicago want free abortions on campus.
Students for a Democratic Society continues to protest in support of a "free and accessible abortion clinic directly on campus," one of its listed goals for this school year.
"SDS marched [on campus] to demand a clinic on campus and free birth control for all students," the group wrote on its Instagram last week. One person held a sign with the false statement that "abortion saves lives."
Abortion ends a human life, sometimes by injection of chemicals to cause a heart attack, other times by puncturing the baby's head to vacuum out the baby's brain. Sometimes women take abortion drugs and have to sit in their bathroom while the baby is aborted.
Leftist publication Fight Back News! reported further on the protest:
The protest is part of an ongoing campaign by Students for a Democratic Society to demand the university do more to defend women's and reproductive rights in the face of the mounting Republican attacks.

Rallying outside of the student center, SDSers gathered a crowd as they spoke, condemning the reactionary right-wing attacks in the courts and legislatures. SDSers emphasized the need to build a fighting movement to defend women's and reproductive rights.
While the proposed abortion facility would also offer free birth control, the organization is open to pushing for even more demands.
When asked on Instagram about providing hormone injections for individuals confused about their gender, the organization said it was open to the idea.
"Would the clinic also be open to providing [hormone replacement theory]? Trans rights intersect heavily with reproductive rights," one person wrote.
"We haven't set everything that would be provided in stone but we would definitely want trans inclusive healthcare to be a part of any clinic UIC provides!" SDS responded.
The organization also wants UIC to stop signing contracts "with companies headquartered in states with [heartbeat] bills," according to its Instagram post.
As I previously reported for LifeSiteNews, pro-abortion politicians in Portland walked back a similar boycott of Texas over its pro-life law.
The boycott would potentially prevent the city from buying flights from Southwest Airlines, contracting with food service vendor Aramark, buying toilet paper from Kimberly-Clark and using Oracle's cloud system.
MORE: Clemson pro-life student group gets violent threats for hosting Students for Life chief
IMAGE: SDS at UIC/Instagram
Like The College Fix on Facebook / Follow us on Twitter