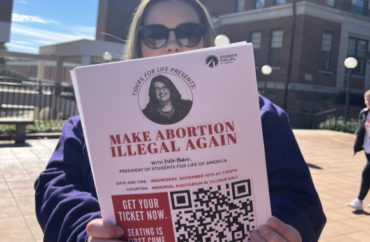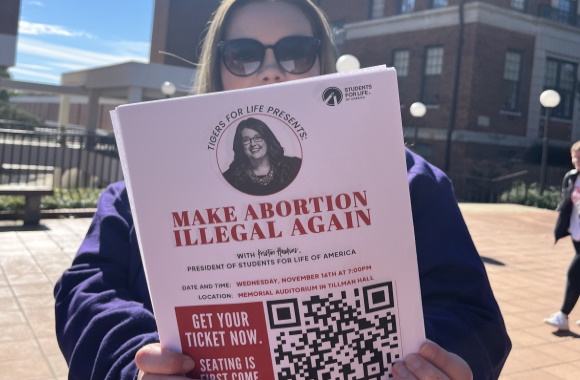 Tigers for Life, a pro-life student organization at Clemson University, has been under siege by some peers as the group prepares to welcome the president of Students for Life of America to campus on Wednesday.
From having their Eventbrite listing hacked, to facing threats of violence, to almost being forced to pay thousands of dollars to host the event out of their own pockets, putting together the Nov. 16 event has been a frustrating battle, the pro-life students told The College Fix in interviews last week.
During one publicity event, Tigers for Life called campus police after they received a threat that peers were planning to "blow them up," Tigers for Life's Vice President Kelsey Smith said.
Later that week, one student told Tigers for Life's President Olivia Grace Talley that she "wanted to smash her face into the concrete."
"I have been worried for the safety of Tigers for Life members," Talley told The College Fix.
One evening, members putting up flyers around campus to advertise the event were followed by students taking them down, Talley said, adding it made her "concerned for their safety."
Smith said Tigers for Life also had to fight with administration as campus leaders unexpectedly demanded that the organization compensate for the costs of a full security detail, metal detectors and a parking lot. They ended up reversing course.
"We got this event approved in June with the administration, and now they're throwing all of this at us a week before the event," Smith said. "On Nov. 9 we got an invoice for $2200 for police officers, but that doesn't include the event staff, the metal detectors or the barricades to keep the protesters away from our lines."
Tigers for Life has received little to no funding from the student funding board and believes it is the university's obligation to protect all students under their jurisdiction, especially when other students are threatening violent action, Smith said.
Thankfully, very recently, Clemson agreed to work with Tigers for Life and help cover the extra security fees for the Kristan Hawkins event, Smith said.
"As far as physical safety goes, these are other students that are threatening us with violence. And we are students, we pay our tuition, we pay the university thousands of dollars," Smith said. "We shouldn't have to pay extra money so that the university stops other students from getting violent towards us; that is the school's job, essentially."
But attacks continued. Earlier this month, the organization's Eventbrite was hacked. The hackers "reserved a bunch of free tickets and deleted tickets that people had paid for," Smith said.
Due to the initial lack of funding, Tigers for Life had begun charging a $5 ticket fee for entry to the event to cover the costs of the necessary safety measures. In response, the organization's inbox had been "flooded with hundreds of emails denouncing what people are calling a 'price barrier,'" Smith said.
Clemson University Police Chief Gregory Mullen told The College Fix via email that "Keeping students safe while allowing all individuals the right to express their views is a key value for us, and we have demonstrated our commitment and dedication to this value on many occasions."
"Regarding security cost, each event is assessed for security considerations to ensure the event occurs in a safe and secure manner. This is especially true if the organization opens the event to the public at large," Chief Mullen said. "For example, when events are open to the public we require police officers inside the venue, magnetometers, event security, and clear bag policies. This is a standard expense that all organizations, including student organizations, pay for events."
Tigers for Life is also expecting an on-site protest at the event, but they welcome all perspectives to join, listen, observe, learn and debate, its leaders said.
"We've heard some rumblings that students are definitely planning a protest," Smith stated. "We would prefer if they came inside to the event because that's what we have the event for; we genuinely want to have a discussion. This isn't just some pro-life echo chamber; we genuinely want the hard questions."
Hawkins remains scheduled to speak at Clemson Nov. 16.
"I have been part of the conservative community at Clemson since my freshman year, and I'm not shy about my beliefs. I don't hide them. I have stickers on my laptop and my water bottle; I'm very loud and proud about it," Smith said. "I never feared for my physical safety until we started getting these threats."
Clemson University spokesperson, Joe Galbraith, did not respond to a request for comment.
MORE: Academics join failed petition to get Justice Barrett book canceled
IMAGE: Blake Mauro / For The College Fix
Like The College Fix on Facebook / Follow us on Twitter