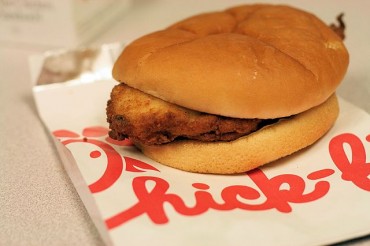 UPDATE (Feb. 4): According to the Indiana Daily Student, Chick-fil-A was not kicked off the Indiana campus entirely. Rather, the lease for one location, the Wells Library cafeteria, was not renewed. A new Chick-fil-A is set to open at the Indiana Memorial Union during the coming academic year. For more, see this IDS editorial.
*********************
Chick-fil-A has been booted off another campus because a small group of students with voting power disagreed with some of the business' Biblical beliefs.
Young America's Foundation reports:
Students at Indiana University voted 18-9 to remove Chick-Fil-A from its Bloomington campus, based on concerns over the company's views on same-sex marriage. In the same meeting the Residence Hall Association voted unanimously to support and establish a residence hall floor for gender blind housing for those who identify as gay, lesbian, bisexual or transgender.
Indiana University student Andrew Ireland spoke to Fox News about the situation, saying political correctness trumped the needs and wants of the students. He said the fast-food joint was very popular on campus.
In July of 2012, Dan Cathy, CEO of Chick-fil-A, commented to the Baptist Press that he supported the "biblical definition of marriage" and supporting gay marriage would be "inviting God's wrath upon our nation."
Ever since, the eatery has been a lightning rod on campuses across the nation, with students for and against the restaurants staying on their universities.
Young America's Foundation's Matt Shute told PoliticChicks that a university "is supposed to support a free medium of ideas, a free discourse and the university itself shouldn't take sides, especially in something that is as divisive as the gay marriage debate."
"This is not about gay marriage,' he added. "It is about what we believe about the free market. People vote with their wallet and consumers should decide who they give their business to. Why on a campus of thousands of students and faculty, should a body of a couple of dozen individuals decide whether or not people have a choice to shop at Chick-fil-A?"
Like The College Fix on Facebook / Follow us on Twitter
Like The College Fix on Facebook / Follow us on Twitter