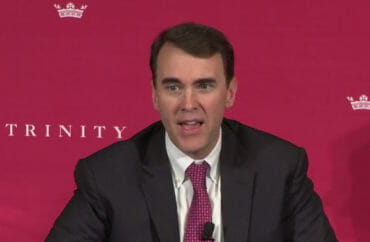 It's a better investment than your house (or your teeth)
WASHINGTON, DC – D. Michael Lindsay steered Gordon College through cultural turbulence three years ago when local government entities blacklisted the left-leaning evangelical college near Boston because of its still-conservative sexual ethics.
Even its accreditation was under threat for Gordon's prohibition on "homosexual practice."
Now Lindsay worries more about his students getting caught up in American cultural controversies, when "we're not unnerved by the atrocities of Boko Haram" against Christians in Africa.
The youthful Lindsay, a former Rice University sociologist who made his name profiling evangelicals in elite positions, spoke on the future of Christian higher education at a Trinity Forum discussion last week.
He was joined by Shirley Hoogstra, who took over the Council for Christian Colleges and Universities after it forced out an allegedly abusive president and later dealt with a member schism over same-sex marriage.
They spent little time laying out an actual blueprint for the future of Christian higher education, particularly its financial and enrollment challenges. Lindsay didn't even address Gordon's crucible over "homosexual practice" until an audience member asked him about doctrinal challenges.
Instead, they argued that Christian campuses are uniquely equipped to help students and faculty deal with the challenges of modernity, namely technology-fueled distraction and loneliness.
Christians' model for campus debate: the apostle Paul in Athens
Higher education is too focused on "the most pressing issue of today" but should take a 10-year outlook as its default, Lindsay said, advocating for "flexible frameworks" in academic fields so that students are ready for careers that haven't been invented yet.
He appropriated the 20th century theologian Karl Barth's description of Christian vocation as a "journey to new harbors," saying the next generation of students may have "14, 15, 20 jobs over the course of their life." Students need to get beyond their "parochialism" and study the wider world.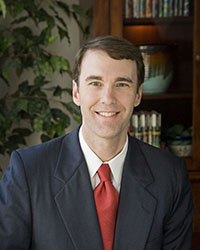 Simply because the Christian gospel is "an offense" to the world doesn't mean students have to "embody it in an offensive way," said Lindsay (left), noting that "grace" precedes "truth" in the apostle John's gospel.
Christian higher ed is not only a $60 billion industry, but it focuses on "the meaning or purpose in life," unlike state colleges, Hoogstra said: "You don't just catch a deep Christian life" but cultivate it intentionally. Christian colleges instruct students in "keeping promises," developing deep friendships and "deep souls," she said.
Christians need a "firm center and soft edges," Hoogstra said, being aware of the "waywardness of our own hearts" as a guard against looking "self-righteous and judgmental" in pop culture.
MORE: Same-sex marriage threatens to tear apart CCCU
The first panelist to explicitly denounce trends in secular education was Pete Wehner, a former George W. Bush administration official and Ethics and Public Policy Center fellow who often appears at Trinity Forum events. (Hovering in the back of the room was another forum regular: Republican Sen. Ben Sasse, a former university president.)
Higher education is becoming defined by "institutions of intolerance" where academics deprioritize freedom of inquiry and students are given trigger warnings and shielded from microaggressions, Wehner said: "We're treating them like porcelain dolls."
In contrast to this "Orwellian moment," Christian institutions can show they are "not afraid to engage and debate and to hear dissent," Wehner said, reaching for his own gospel example: the apostle Paul engaging with the pagan philosophers of Athens.
He distinguished between the search for truth and beauty and the worship of "doubt," and said the goal should be engagement with great books, teachers and classmates, "which are really in the end great conversations whose conclusions are not ordained."
Dating is countercultural
They discussed how the practice of sabbath has fallen out of favor in both the church and their educational institutions.
Lindsay said another evangelical school, Azusa Pacific University, "actively encourages" its faculty and staff to take sabbath rests from technology over weekends, and Gordon's study-abroad program limits technology use for students to two hours a day. "It actually has a way of reorienting their lives," he said. Wehner said he and his wife banned their children from getting iPhones until they were 17.
A more restrained relationship with technology is just the tip of countercultural practices that Christian schools can offer society, according to Lindsay. He was surprised upon arriving at Gordon from his previous secular institutions – Rice and Princeton – that people said hello to each other in passing.
MORE: Embattled Gordon College sticks with traditional sexual ethics
The typical campus is full of "moroseness" and "pretty unhappy people. There's no joy," Lindsay said, blaming family and community breakdown of the kind documented in the book Bowling Alone. One distinctive Gordon initiative is helping students learn how to date, he said: "When I preach in chapel I'll talk about my dating life" with his wife.
Hoogstra (right) called faith an "anchor" to deal with the anxiety that plagues students. She called on them to also find adults who can serve as "antidotes" when students feel lonely or inadequate.
Lindsay pushed back against a comment from Joe Loconte, history professor at The King's College in New York, that the "scandal of the evangelical mind" – an intellectual apathy identified by historian Mark Noll in the 1990s – was continuing today. "Eight years in higher education now, I think the crisis is alive and well," Loconte said.
The Gordon president said he was impressed daily with the "intellectual seriousness" of his students, which is on par with Rice and Princeton. When a Gordon alumna asked how to improve the "optics" of Christian higher education, Hoogstra said boosters must "speak clearly and boldly about the fruits of the Spirit" in the cross-disciplinary work of Christians.
You can't put a price on a prayerful community
Lindsay and Hoogstra were at their most strident when talking about the value of Christian higher education and the threat of government pressure on school beliefs.
The Gordon president groused that everyone complains about the spiraling cost of college but not the even higher increases in the cost of dental care.
He blamed families for spending more money on nonessentials like cars and less on their children's education, and said a Christian education has a better investment return than a house, which justifies taking on student loan debt. Gordon's sticker price went up this year but its average "real" price went down, with financial aid included, Lindsay said.
Hoogstra chimed in that average student debt is much lower than media horror stories, topping out in the low $30,000s. She claimed Christian college graduates also have the lowest default rate.
MORE: Ex-lesbians get Christian schools on LGBT 'shame' list
Lindsay thanked the CCCU for the help it provided when Gordon was under attack for its sexual-purity requirements. Such challenges are coming to every other Christian "institution," not just colleges, he warned: "How do you engage in a civil way when you have countercultural convictions in a pluralistic public square?"
"It was so wrong that they [Gordon] were on the ropes like that," Hoogstra said, but she encouraged Christian colleges to use the crisis to "get sharper" in making the case for their distinctive education with policymakers.
Asked by The College Fix for his response to economist Bryan Caplan's book The Case Against Education, which argues the education system "is a waste of time and money," Lindsay launched into a lengthy anecdote about a Gordon colleague who had passed away.
Education is "becoming a better version" of yourself, Lindsay said. This colleague had died suddenly with no family outside of his students, and those tasked with sorting through his belongings found stacks of file folders with students' names on them.
They weren't academic files for the deceased's own students – they were prayer folders for every graduating student at Gordon. "At Gordon College we pray for you by name," Lindsay said.
MORE: Let your grade schoolers be libertarians with their education
IMAGE: Trinity Forum/YouTube
Like The College Fix on Facebook / Follow us on Twitter