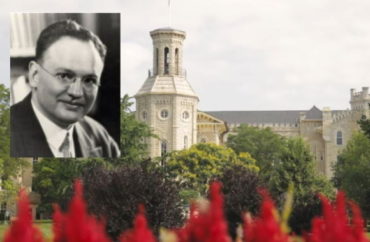 Wheaton College task force reviewing school's 'history regarding race'
Wheaton College, a Christian institution in Illinois, is conducting a review of its "history regarding race," including a petition from a "collective of BIPOC students and alumni" to rename its library.
BIPOC stands for Black, Indigenous, and People of Color, and the collective argues in its petition that James Oliver Buswell, president of Wheaton from 1926 to 1940, left a "racist legacy" at the evangelical school.
Wheaton College created a task force in October 2021 to "conduct a historical review of race," the Wheaton Record reported. An email from current President Philip Ryken stated the goal of the taskforce is to "understand the impact of past events on present realities, particularly the experience of ethnic minorities."
The review remains ongoing to this day, Wheaton spokesman Joe Moore told The College Fix.
"Like many institutions during the past few years, Wheaton College has had periodic conversations internally as we've considered pieces of our history regarding race," Moore said via email.
"The committee was formed in October and is continuing its work. A goal of the study is to determine—in view of the supremacy of Jesus Christ—what aspects of this history need to be celebrated more intentionally, lamented more deeply, or repented of more specifically."
Wheaton College has already established a record of revisiting items deemed troubling by some. Last year college leaders edited a plaque honoring five missionaries who were killed by a tribe in Ecuador in 1956. The wording was changed from "savage" to "the most feared indigenous peoples in South America at the time."
The current task force consists of a handful of trustees, faculty, staff, alumni and students, the Record reported, adding student reporters have been barred from attending its 10 meetings thus far. Professor of Library Science Katherine Graber told the student newspaper it is because taskforce members wanted to be able to speak freely.
"The task force's work involves investigating programs, policies and practices at Wheaton using the College's archives as well as the work of scholars," the student newspaper reported.
Wheaton was founded by evangelical abolitionists in 1860, led by Jonathan Blanchard. The petition targets Buswell, its third president.
The petition cites documents uncovered by the William Osborne Society, which "exists to provide Black students an avenue to make their unique contribution to Wheaton College," according to its website.
The petition points out no black students were admitted during his 14-year tenure.
It also cites a letter in which Buswell reportedly wrote to a trustee that though he is not against interracial education, he "felt that for a small Christian school where the social contacts are so close, it would be better to avoid coeducation of the races." He continued, "I am trying to avoid the issue while quietly advising colored applicants to go elsewhere."
The petition is attributed to "a collective of BIPOC students and alumni of Wheaton College" and states it seeks to "stand in solidarity with the finding that the William Osborne Society found in their research of the college's history in race and relations and stand in solidarity with the Black students of Wheaton who are affected and marginalized by the continuous use of President Buswell's name for the school library."
"Removing Buswell's name from the library will fall in tandem with this nation's movements to remove memorials that celebrate known racist white supremacists," it added.
Buswell's online bio lists him as a pastor and former army chaplain during the first World War who "was a force that kept Wheaton from embracing the liberal theology popular at that time."
Under his tenure, "Wheaton received academic accreditation, upgraded library services, added a substantial number of Ph.D.s to the teaching staff, and launched its first graduate courses. Six literary societies provided training and social activities for many students who went on to national prominence in several professions, morning chapel was a daily experience for students and faculty, and a strong athletics program brought renown to both college and community."
MORE: Check out The College Fix's Campus Cancel Culture Database
Like The College Fix on Facebook / Follow us on Twitter