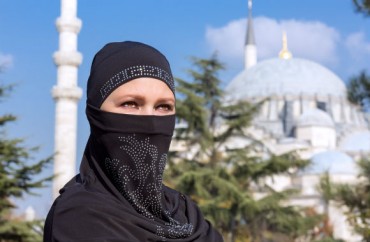 Expect a sea of hijabs among Wheaton College students to protest the pending firing of Prof. Larycia Hawkins, whose headscarfed expression of solidarity with Muslims also included some disputed theology.
The evangelical school, which has a strict statement of faith to which faculty must assent, confirmed Tuesday that its provost has recommended the start of "termination-for-cause proceedings" against Hawkins for saying Muslims worship "the same God" as her:
The Notice is not a termination; rather, it begins Wheaton College's established process for employment actions pertaining to tenured faculty members.
RELATED: Christian college called racist for suspending black professor who said Muslims worship 'same God'
The Illinois college claims Hawkins doesn't want to continue "dialogue about the theological implications of her public statements," including her doubling down on the Muslim-Christian claim.
Hawkins can still beat the termination proceedings: She'll go before a committee of tenured faculty in the next month, which will make a recommendation to the president on her tenure. The president will then make a recommendation to the board of trustees, who will decide her fate at Wheaton.
RELATED: Christian college prof who said Muslims worship 'same God' refuses to give up tenure to be restored
Hawkins has a new professional website and Facebook page dedicated to her defense. In a statement posted Tuesday afternoon, she said she'll address the termination proceedings Wednesday morning at the Chicago Temple.
Unlike Wheaton's announcement, Hawkins quotes the termination letter as saying she is being targeted in part because of her "unqualified assertion of religious solidarity with Muslims and Jews."
Critics of Wheaton have noted that Hawkins is the only black female professor with tenure, but advocates of liberalization within Islam have faulted her hijab stunt for promoting the oppression of Muslim women.
h/t Chronicle of Higher Education
RELATED: Hijab-wearing Christian professor is promoting culture of oppression, Muslim reformers say
Like The College Fix on Facebook / Follow us on Twitter
IMAGE: Alex Brylov/Shutterstock