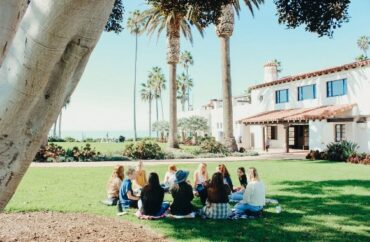 'A college like Hildegard is rare—where students can care about wisdom and virtue first,' board member said.
A Christian nonprofit dedicated to education in the classics, faith formation and entrepreneurship announced the launch of an undergraduate degree program in 2024.
Hildegard College President Matthew Smith wrote the California liberal arts school is "currently accepting applications" in a statement emailed to The College Fix Oct. 17.
"We're looking for young people who are hungry for things that are real–real ideas and questions, and real-world application," President Smith wrote. "True education isn't confined to the mind. It's about friendship and conviction."
President Smith also wrote that "Hildegard students use entrepreneurship and leadership formation to reignite the liberal arts."
Hildegard is currently seeking a licensure exemption from the state of California to offer a Bachelor's Degree, according to its website.
Starting this fall, Hildegard has offered scholars its two-term Hildegard Fellows Program, "an immersive 8-month course in Christian Liberal Arts and Entrepreneurship," its website states. Additionally, current students may earn up to 30 academic credits "through an accredited partner university."
The goal is to help students get into the real world faster than a normal college degree would allow.
President Smith told The Fix in a June 2022 interview that Hildegard is not modeled after the traditional four-year university. Instead, its aim is to equip young minds to go out into the world as quickly as possible, combining study abroad trips, transfer credits, and high school AP credits to graduate students within three years.
President Smith wrote that the college's joint focus on classical education and entrepreneurship seeks to "reignite the liberal arts."
"This current year, students are studying the classics of ancient Greek, Roman, and biblical literature, as well as classical logic and geometry," he said. "At the same time, they're studying economics through start-up principles."
Dean of Enrollment and Student Services Christy Matthews told The Fix that Hildegard is "an intentionally small, mentorship-driven community."
"We are implementing our values by connecting students with our Church and Civic Partners," she wrote. "Local churches, families, and businesses are hosting our students for meals, networking events, outdoor adventures, and workshops. Our students are being challenged and enriched spiritually, academically, and socially–and learning how they can meaningfully contribute to these communities."
Hildegard board member and writer Jessica Hooten Wilson spoke more about how the college is putting its mission into action.
"I'm excited about what Hildegard is setting out to accomplish and the faculty and pioneering students making the vision a reality," she wrote to The Fix. "A college like Hildegard is rare—where students can care about wisdom and virtue first, keeping vocation aligned with that, rather than separate."
"They combine tradition with innovation, the liberal arts with liberation and creation," she said. "I've seen their seminars, and they show energized discussions about permanent things."
According to Hildegard's founding principles statement, its primary purpose is union with God as "the end of all moral activity."
To that end, Hildegard seeks to empower minds to grasp truth through liberal arts education, moral and spiritual formation, civil discourse and institutional independence.
The college's mission statement also includes upholding Christian beliefs as an ecumenical institution.
"Hildegard College recognizes a historical and orthodox Christian faith," its website states. That includes "the definitive doctrines of creation; the Holy Trinity; the passion, death, and resurrection of Jesus; original sin; human dependence on divine grace for salvation; and the life of the world to come."
MORE: Group provides classical, tuition-free liberal arts education online
IMAGE: Hildegard College/Facebook
Like The College Fix on Facebook / Follow us on Twitter