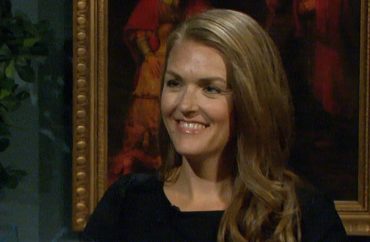 Students will not just memorize facts, but wrestle with larger-than-life questions, be encouraged to ponder the bigger picture
The University of Tulsa is building a residential liberal arts honors college under the leadership of a new dean who is a philosopher and mother of six.
"I think my biggest challenge will be moving all eight of us to Tulsa without losing my mind," Jennifer Frey joked in her Jan. 12 email to The College Fix.
"But seriously, I think of challenges as opportunities," she added.
Frey (pictured) is a professor at the University of South Carolina, creator of the popular podcast Sacred and Profane Love, and executive council member of the Society of Christian Philosophers, according to her faculty bio.
The honors college is expected to open to new students in fall 2023.
"What we want to do with the honors college is create a community of learners who seek to help one another grow in wisdom together through the study of classical texts," Frey stated.
Friends, I have some exciting news to share: I am going to be the inaugural Dean of a new honors college devoted to the pursuit of wisdom through the study of classical texts at @utulsa https://t.co/OJZqDS277Q

— Jennifer A. Frey (@jennfrey) January 5, 2023
She said she expects this growth to expand over the next three years.
"We intend to… transition the [existing honors program] into a residential college with a unified and integrated core curriculum," Frey told The Fix. "The current program enrolls approximately two hundred students and we plan to grow the college and scale up over the first three years."
At the honors college, students will not just memorize facts, but wrestle with larger-than-life questions, and be encouraged to ponder the bigger picture bigger, existential picture, Frey said.
"Many of our brightest students tend to think of learning as just another kind of competition or a means to get ahead in life, but we want to foster a different approach and attitude to study within the college," Frey said.
Frey also spoke of her aspirations to build bridges between the college and the surrounding community, connecting "the college to the many great cultural institutions in the city of Tulsa."
"We also think that wisdom gained should be wisdom shared," Frey said, "and we want to foster a climate of service to the community beyond the college and the campus."
The college should appeal to students with technical or scientific majors as well as humanities ones, Frey said.
"While we will provide [the students] with an exceptional liberal arts education in the college, we also want them to be able to do serious, specialized work within their chosen majors," she said. "We plan to provide many research supports in the college as well."
Frey will 'continue the renaissance' at the university
"The Honors College at TU will offer our most intellectually serious students a home for academic work and for the late-night philosophical conversations that characterize the best of an academic-residential experience for undergraduates," according to university Provost George Justice in a Jan. 5 university statement.
What's more, Frey is uniquely poised to lead it.
"Jennifer is deeply committed to philosophy, literature, history, art, and religion and will continue our renaissance to achieve the type of education that is essential to human flourishing," university President Brad Carson added in the statement.
"Our honors program has long focused on some of the great texts, but the Honors College will extend and deepen that commitment," Carson stated in an email to The Fix on Jan 18. "The Honors College will be, for the first time, a living-learning community where students will live and study together."
Additionally, he said, "the Honors College will be a platform to introduce new speakers and guest lecturers, as well as promote other programming. The Honors College will, over time and pending faculty approval, offer a major and minor in the Great Books. This is just a start."
"The TU community has wholeheartedly embraced the new Honors College, and many professors are excited to teach in it," Carson told The Fix.
Additionally, "philosophy is absolutely essential to any university,' Carson told The Fix in an October interview. Carson reinstated majors in philosophy and religion as one of his first acts as president.
Those excited by that mission have been eager to support the new endeavor financially, Carson said.
"We are excited that a number of the university's top donors have already begun to fund preliminary work on the Honors College," he said. "Since its public announcement, other donors have contributed to the Honors College. As president, I will eagerly raise money dedicated to the Honors College, and I will ensure it has adequate resources to guarantee its success."
MORE: Faculty launch counterattack as University of Tulsa slashes humanities programs
IMAGE: Coming Home Network/YouTube
Like The College Fix on Facebook / Follow us on Twitter