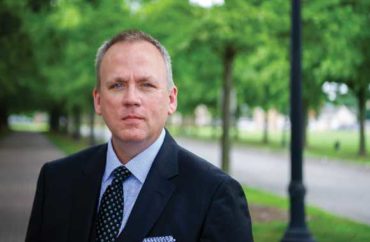 President reinstated discontinued humanities degree
The president of the University of Tulsa recently spoke to The College Fix about why he chose to reinstate an undergraduate degree in philosophy and religion, which had been discontinued before he started at the university. Students can enter the program beginning in fall 2023, the university announced.
President Brad Carson formerly worked as undersecretary of defense for President Barack Obama, where he oversaw human resources and education for 5 million troops, family members and civilian employees.
The following interview has been edited for length and clarity.
The College Fix: Why was the philosophy program discontinued?
Brad Carson: The program was discontinued…by a previous president and provost. And I think the view – which was not wrong – was that the number of people who were majoring in the humanities broadly and in philosophy in particular has really declined precipitously over the last 25 years. They cut 55 programs…out of a couple hundred altogether.
TCF: So the criterion for cutting programs was whether they were attracting students?
BC: That was a major driver. There was also discussion about the centrality of the program to the mission of the university, its prospects for growth, the resources required to offer that degree….it was a holistic look at factors that would drive success.
TCF: Given all those reasons, did anything change to prompt you to bring the philosophy major back, or did you decide to bring it back for different reasons?
BC: I think two things changed with my arrival at the university. One is, I believe philosophy is absolutely essential to any university…it is the foundational field. And so I don't believe any university should cut philosophy, period.
The second thing is that I believe that there is a way to bring the humanities back to life. Philosophy's a key part of that. I find [the decline in the humanities] to be kind of a lamentable situation, having studied history and philosophy myself. So I want to find ways to revivify these programs and make them appealing to young people again. And I'm going to use philosophy as my test case to do that.
TCF: When you say philosophy is the ultimate discipline, what do you mean by that?
BC: I think that the historical figures you study in philosophy, the ideas you encounter in philosophy are the ones that underpin any other kind of humanistic inquiry, in the same way that math is the foundational field of science. It's the "handle that fits every tool." It's what originally universities were about, teaching philosophy and theology, and ideas. So I think if we look at the history of the university, the curriculum of the university…it is to me the basis of all other disciplines.
TCF: And it seems like there's been a narrowing of philosophy, where "theory" [like "queer theory"] has taken over the humanities and the social sciences to some degree. Do you think philosophy can be kind of a fix to the "theory" takeover of the humanities?
BC: I'd say philosophy could be a complement to it, right, or an alternative? I could say it like this: parents ask me, 'why study the humanities? It doesn't seem useful.' And I always hear people in the humanities try to defend it by saying, well, it teaches critical thinking. And I myself never, ever say that. There are lots of ways to learn critical thinking. So this utilitarian defense of the humanities doesn't have any appeal to me.
What does appeal to me is that in the honors college [as a philosophy major] you can study the greatest artifacts of human achievement. And that doesn't simply mean you read people who came from France or Britain. There are amazing monuments of philosophy, literature, and art that are the pinnacles of human achievement, and you should appreciate them for their sheer beauty and the sheer genius of their achievement.
These are things that people should read, just because they're people, and these are some of the greatest things that our species has produced.
This field of inquiry is so rich and so important, that I'm going to reestablish the program, but I'm also going to spend a lot of time persuading students that this is something they need to take part in.
TCF: How are you going to persuade students?
BC: Studying the great monuments of Western civilization is part of what a good education should be. I've seen some students fall in love with philosophy described in this way…I myself fell in love with the field.
This also applies to other fields. Like, why do you study painting and fine arts? These are amazing human achievements. I do think there is an audience for that.
MORE: Woke scholarship harmed the humanities. Love of beauty can save them
IMAGE: University of Tulsa
Like The College Fix on Facebook / Follow us on Twitter