While the mainstream media ignores 2020 presidential election integrity concerns, Regent University took the issue head on, hosting a parade of conservative speakers who warned against last-minute changes to election laws and troubling voting irregularities.
The speakers also discussed the implications of H.R.1 and voter ID laws.
The online event hosted by Regent University's School of Government was published March 23 and called "Analyzing American Election Integrity."
"Americans just experienced the greatest crisis in election integrity at all levels of our government at the federal, state and local levels," said Michele Bachmann, a former presidential candidate and congresswoman who recently took the helm as dean of Regent's School of Government on January 1.
Bachmann, who moderated the virtual conference, said Americans "observed chaos, disorder, [and] crisis in swing state after swing state on election night in 2020."
The conference featured a veritable who's who of conservatives, including several high-profile pundits and politicians who supported the America first agenda.
Among the speakers were former U.S. Housing and Urban Development Secretary Ben Carson, Missouri Secretary of State Jay Ashcroft, former U.S. Director of Trade Peter Navarro, and media personality Mark Steyn.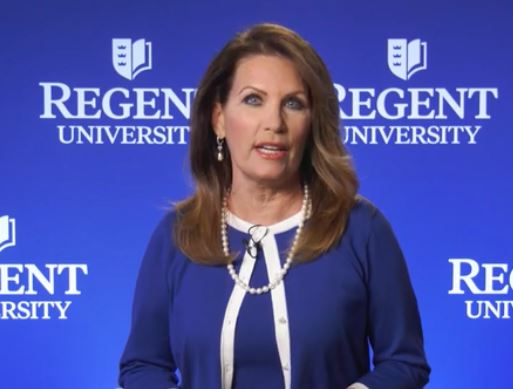 "Many state election officials condoned voting irregularities," Bachmann said. "Many state election officials created conditions to be ripe for fraud. Bizarre voting processes never tried before on a mass scale were put into place for the first time in the 2020 election."
Peter Navarro, who holds a doctorate in economics from Harvard University and published a report on "Six Key Dimensions of Election Irregularities" in the aftermath of the 2020 presidential election, said election integrity issues spanned the spectrum.
He said in his speech his research found that in addition to examples of fraud, "there are also issues of ballot mishandling, contestable process fouls, equal protection clause violations, voting machine irregularities, and significant statistical anomalies."
He said he found such problems across six battleground states: Arizona, Georgia, Michigan, Nevada, Pennsylvania and Wisconsin.
"If you compare the Biden victory margin across these six states, it's razor thin. Basically, they stole just enough votes to win," he said.
Mark Steyn, in his speech, said the election process was a disgrace, citing its lengthy period of time to count the votes that stretched into days and weeks.
"If a newsreader is talking about overnight developments in the election, and that new ballot boxes have just emerged and been [sent] to a polling station to be counted, the minute you hear that, you know you're either hearing about a Sudanese election or about an American election," he said. "There's absolutely nothing normal about that situation."
Steyn said also that companies such as Cumulus Media warned its employees not to talk about the subject of election fraud.
"When powerful people say you're not allowed to talk about it," Steyn said, "I regard it as a point of duty to talk about it."
He also spent some time discussing the contentious H.R. 1 bill, which was passed by Democrats in the House of Representatives in March.
"You basically will be ensuring in H.R. 1 that this will be a one party state," he said. "The Republicans will never win anything else at the federal level moving forward."
H.R. 1, or the "For the People Act," would federalize national elections by requiring every state to accept mail-in ballots 10 days after the election, mandate ballot harvesting, ban voter identification laws, and severely restrict speech, according to the Women's Independent Forum.
John Fund, senior editor of the American Spectator, said in his comments that the bill "is the single worst piece of legislation I have ever encountered in forty years covering Washington, D.C. … It's 800 pages describing a federal takeover of state election laws."
Other concerns raised included big tech's influence in the 2020 presidential election and the legal process surrounding presidential election disputes.
"I used to be a trial attorney. I know how to get evidence in front of an impartial jury. And I'm wondering: what in the hell is going on here? We have all these cases, thousands of affidavits, but there's no courtroom that will entertain it," said David Clements, a professor of law at New Mexico State University.
"It's been a depressing journey to see the level of cowardice across the country with certain judges," he said.
Carson, for his part, delivered the keynote address.
"Election integrity is one of the most important issues facing America today. And it is important we get it right. Americans must have confidence in our institutions," he said. "Faith in our electoral process is eroding. And it's incumbent on our leaders to address it."
"The 2020 election was a national disgrace, and the media refuses to tell the truth about it."
Carson agreed that "the courts really haven't looked at the evidence that exists."
"It's almost as if they're afraid to look at the evidence that exists," he said.
Carson also talked about the silencing of all dissent on the question of whether or not Joe Biden legitimately won the presidential election.
"When big tech and other entities in the private sector, like the media, impose restrictions on our speech with the compliance of the government, the results are every bit as devastating [as government imposed restrictions]. It was exactly what our founders wanted to avoid. We need to understand that," he said.
"This is the dividing point between whether America remains a free or prosperous nation or whether we turn into something else."
All of the speeches are available on Regent's website. The university put a disclaimer before each speech and panel that the views expressed do not necessarily reflect that of the university.
Asked about the importance of hosting the conference, Michael Johns, a co-founder of the national Tea Party movement and a former White House speechwriter who helped lead the effort to seek election integrity for President Donald Trump, said it's a topic that deserves major scrutiny.
"Some, such as Peter Navarro, Rudy Giuliani, myself, and others have spent dozens of hours reviewing affidavits, speaking with whistleblowers and election officials and observers, and reviewing election processes that reflect clear violations of state statutes and issues of impropriety and fraud," he told The College Fix via email.
"Obviously these issues need to be reviewed and addressed for this election to be deemed legitimate. The fact that this still has not happened is why over 40 percent of Americans feel the election was illegitimate, which is hugely unhealthy to a representative democracy."
MORE: H.R.1 would transform public universities into 'voter registration agencies'
IMAGES: Regent University
Like The College Fix on Facebook / Follow us on Twitter