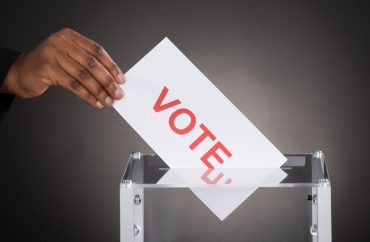 A bill passed last week by the U.S. House of Representatives would mandate that public colleges and universities register as many students as possible, requiring each campus to hire a "Campus Vote Coordinator" to increase turnout.
H.R.1, named the "For the People Act of 2021," directs each campus to maximize the number of students registered and voting, including providing extra funds to schools that demonstrate "excellence in registering students to vote in elections for public office."
The provisions of H.R.1 dealing with universities initially appeared in legislation authored by U.S. Senator Cory Booker (D-N.J.) and Congressman Raja Krishnamoorthi (D-Il.).
"The addition of student voting provisions in H.R. 1 will expand access to our democratic process and enfranchise millions of new voters," said Krishnamoorthi in a statement emailed to The College Fix.
"Youth political participation is crucial to a vibrant and healthy democracy, and this legislation will vastly improve voter education and registration at every college campus across the country," Krishnamoorthi said.
The bill, which now awaits action by the U.S. Senate, would require the new Campus Vote Coordinator to send an email to students informing them of the location of nearby polling places, information on available methods of transportation to and from such polling places, links to a government-affiliated website or online platform which provides centralized voter registration information, and "any additional voter registration and voting information the Coordinator considers appropriate."
"As we begin to carefully examine this proposed legislation, we certainly appreciate and support that the intent of the bill is to increase student participation in the electoral process," said University of Michigan spokesman Rick Fitzgerald in an email to The College Fix.
"The university community actively encourages our students to register to vote," said Fitzgerald, noting the school has previously participated in efforts like the Big Ten Voting Challenge to increase turnout.
In addition, the bill creates a number of programs seeking to increase voter registration of students before they reach college campuses. The bill mandates that each state allow 16- and 17-year-olds to register to vote, even if the state does not allow them to cast ballots until they are 18.
This process, known as "preregistration," is common in individual states across the country. According to the National Conference of State Legislatures, 14 states plus the District of Columbia allow 16-year-olds to preregister to vote, four states allow 17 year olds to preregister, and five more set another age for citizens under 18 to register to vote. (For instance, Alaska permits potential voters under 18 to register within 90 days before their 18th birthday.)
During debate on H.R.1, the Democratic-controlled House rejected an amendment authored by Rep. Ayanna Pressley (D-Mass.) that would have allowed 16 year-olds to vote.
Further, H.R.1 creates a pilot program that provides funds to local school districts and other educational agencies that instruct 12th graders on how to register to vote.
The bill also sets up a grant program to send taxpayer money to universities that make an effort to register the most students, including:
-Sponsoring large on-campus voter mobilization efforts.

-Engaging the surrounding community in nonpartisan voter registration and get out the vote efforts.

-Creating a website for students with centralized information about voter registration and election dates.

-Inviting candidates to speak on campus; and

-Offering rides to students to the polls to increase voter education, registration, and mobilization.
No date has been set for debate on H.R.1 in the Senate, although the bill faces challenges from Republicans who argue the Democrats' wide-sweeping electoral changes usurp local control by state governments.
Due to the Senate filibuster rule, the bill would need 60 votes to pass. Some Democrats are urging Senate leader Chuck Schumer (D-N.Y.) to scrap the filibuster rule to pass the bill.
MORE: University's 'Voting is Sexy' class hopes to 'make voting irresistible'
IMAGE: Andrey Popov / Shutterstock.com
Like The College Fix on Facebook / Follow us on Twitter