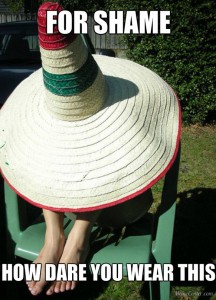 A Cinco De Mayo party at the University of California-Davis prompted a massive student demonstration, declaring the party "racially insensitive," leading to the cancellation of the off-campus event.
The protest resulted not so much form the party itself, but from an image student posted to Facebook in order to promote the event that depicted two students in sombreros, jumping a chain-link fence while two other students dressed as border patrol agents looked on.
The party was to be held Saturday ahead of Monday's Cinco de Mayo holiday that celebrates Mexican heritage. Some students who had organized the party worked at the on-campus Coffee House where Friday's protest took place.

The Sacramento Bee reported that about 100 students enacted a sit-in at the Coffee House, wearing red shirts and chanting slogans. They called for a boycott of the student-run cafe and cafeteria, successfully scuttling plans for the off-campus party…
The chancellor of the university is calling for mandatory diversity courses to prevent future displays of "insensitivity." And a UC Davis Dean of Student Affairs, Adela de la Torre, says "internal sanctions" are under consideration for the students behind party.
(Image: forshamememe)
Like The College Fix on Facebook / Follow us on Twitter