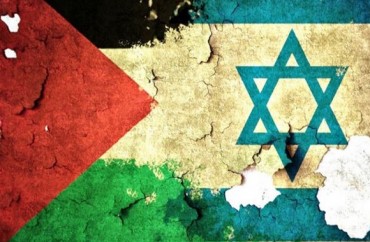 Citing the Boycott, Divestment, Sanctions movement, a professor at the University of Michigan rescinded his willingness to write a student a letter of recommendation because the student wanted to spend a semester studying in Israel.
John Cheney-Lippold, an associate professor in the university's Department of American Culture, was apparently willing to write a letter of recommendation for one of his students who wished to study abroad.
But after the professor realized Israel is the country she was interested in, he sent the student an email stating he could not write the letter because "many university departments have pledged an academic boycott against Israel in support of Palestinians living in Palestine," adding that "this boycott includes writing letters of recommendation for students planning to study there," according to a screenshot of the email obtained by the Times of Israel.
In his email to the student, named Abigail, Cheney-Lippold wrote that he had "missed out on a key detail" in her original request.
"I should have let you know earlier, and for that I apologize," he wrote. "But for reasons of these politics, I must rescind my offer to write your letter." He then concluded by saying "if you need me to write other letters for you, I'd be happy."
Cheney-Lippold did not immediately respond Tuesday to a request for comment from The College Fix. He told the Michigan Daily that "the perennial claim of anti-Semitism I fully deny," and added "as a professor, I'm not just a machine writing things for people."
"I have opinions and even though a letter of recommendation is about the student, a lot of thought goes into them. It's not a blank check where I'm signing for them to go to any place they want, it is a dialogue," he added.
Rick Fitzgerald, a spokesperson for the University of Michigan, told The Algemeiner on Monday that no academic department at the university officially maintains a boycott position.
"The academic goals of our students are of a paramount importance," Fitzgerald continued. "It is disappointing that a faculty member would allow their personal political beliefs to limit the support they are willing to otherwise provide for our students."
He said the school will engage its faculty "in deep discussions to clarify how the expression of our shared values plays out in support of all students."
The University of Michigan's student government passed a Boycott, Divestment, Sanctions resolution last November, but it was rejected by the University of Michigan's Board of Regents, which stated: "We work together to better understand the most complex challenges we face on campus and beyond. We do this work through active engagement in the world around us. To boycott, divest or sanction Israel offends these bedrock values of our great university."
Asked to weigh in from a Jewish perspective, student Pinchas Preil from Kean University told The College Fix in an interview that he believes the BDS movement runs afoul of true academic inquiry, and the Michigan professor in question did a disservice to his student.
"If you decide to boycott Israel because you think Israel is acting criminally towards Palestinians, your solution to fix the problem is not to have people study and educate themselves?" he said. "Perhaps the best way to bridge the divide and improve relations in any scenario is to properly educate yourself and others on both sides."
"Students are supposed to be educating themselves and professors are supposed to help. And any professor who refuses to help a student learn and grow doesn't deserve a job."
MORE: UMich student government approves anti-Israel resolution on 11th try
Like The College Fix on Facebook / Follow us on Twitter