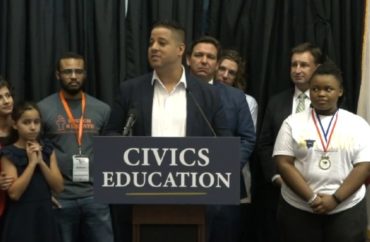 Abe Lopez says he welcomes debate in his classes and teaches the good, bad and ugly of American history
A civics teacher in Florida recently spoke at an event hosted by Governor Ron DeSantis and said he does not inject his personal beliefs into the classroom.
The Florida governor's event celebrated the state's "improved performance in all Social Studies metrics according to Florida's 2022 statewide assessment results."
Civics teacher Abe Lopez (pictured) shared his philosophy of teaching due the June 30 event.
"I can't tell you enough about the importance of connecting with these students as individuals," Lopez said. He teaches at a low-income school district and said many of his students start the school year without a "basic" understanding of how the government works and the importance of the founding documents.
"I use this opportunity as a blank slate to help my students understand that their rights are intrinsic," he said. "[Their rights] do not come from a man, they do not come from a government, our rights from a Creator. And once you acknowledge that your rights come from a Creator, it can't be taken away by a man or government."
"Some students ask me for my opinion on the hottest topics of the day. I respond to them: 'It is not my job to get them to think the way that I think.' I tell them that it is my job to teach them to think for themselves," Lopez said.
"I try to encourage and inspire them to think beyond the toxicity of the influence that you see in social, traditional media and also celebrity culture," he said.
He said he teaches them about what is expected of them as citizens.
"In my classroom I welcome dissent, debate [and] engagement. I teach American history, the good, the bad, at times even the ugly," he said. But Lopez also teaches them that "proud Americans" arose during the bad times to make the country a better place.
MORE: Gov. DeSantis releases new curriculum initiative
IMAGE: Governor Ron DeSantis/Facebook
Like The College Fix on Facebook / Follow us on Twitter