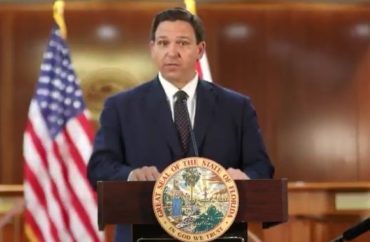 'No room in the classroom' for CRT, DeSantis said
Florida Governor Ron DeSantis, a Republican, recently announced a new initiative to promote civics education.
The "Civic Literacy Excellence Initiative" would create "a new professional licensure endorsement for educators in civics education," according to a news release from the governor's office.
Teachers who earn the endorsement would be given a $3000 bonus, according to the details of the proposal. Another $16.5 million would be available for civics education for principals and teachers.
"A high-quality education begins with a high quality curriculum, which is why I remain laser focused on developing the best possible civics education standards," the governor said in his statement. His proposal still needs to be introduced and passed by Florida legislators.
It will "promote high-quality civics education for Florida students and reward classroom educators," DeSantis said.
MORE: Hillsdale College republishes Trump 1776 report
DeSantis also criticized critical race theory, stating ideologies like this have no place in Florida.
"There is no room in classrooms for things like critical race theory," the governor said during his press conference. Part of his revamping of education in the state will include improving the curriculum, DeSantis said.
"It will expressly exclude unsanctioned narratives like critical race theory and other unsubstantiated theories," DeSantis said. "Teaching kids to hate their country and to hate each other is not worth one red cent of taxpayer money."
The Fix reached out to DeSantis' office to ask about the motivation behind the proposal and his goals for it but did not receive a response in the past two weeks.
Teachers disagree on proposal
One teacher shared his support for the proposal with The College Fix.
"Understanding civics is the foundation of a free society," Gavin Rollins, a civics teacher in Florida told The Fix via email. Rollins is a Clay County Commissioner and served as a city council member. He also ran for Congress in 2020.*
"Civics instruction is passing on the torch of liberty to the next generation," Rollins said. "This plan provides emphasis on civics from a pro-American perspective and helps root out Marxist Communist ideology like critical race theory."
"As a civics teacher who served in government, I was able to provide real world perspective to students," the Florida teacher said. "Teaching civics requires engagement from elected officials and student internship; real world experience, not just theoretical ideas."
The Fix reached out to several members of the Florida Education Association for comment on the proposal but did not receive a response.
A civics teacher. who is also a mayor, criticized the exclusion of race theory from the classroom.
"Since we've been given the white version of history that means you are asking about diversion of history," Jordan Marlowe, a high school teacher and mayor of Newberry, told WCJB 20.
MORE: Race-baiting critical race theory lesson caught on tape
Disclosure: The author of this article worked on Rollins' Congressional campaign.
IMAGE: Ron DeSantis/Twitter
Like The College Fix on Facebook / Follow us on Twitter