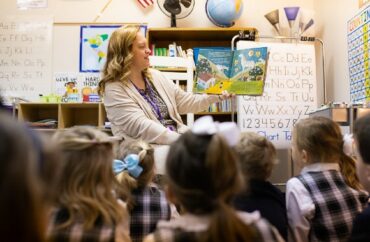 'Existing masters programs in education [are] obviously inappropriate,' classical educator said
As the classical education K-12 movement gains steam, Christian and conservative universities have set up programs to form more teachers in the tradition.
Director John Peterson of the Classical Education Graduate Program at the University of Dallas, a Catholic institution, told The College Fix via email that standard teacher education programs fall short of the classical ideal.
"The existing master's programs in education [are] obviously inappropriate for the classical schools, which are inspired by a complete rejection of assumptions and practices of modern education," Peterson said.
Classical school education programs are dedicated to "a different vision, the cultivation of virtue and the pursuit of the good rather than value-neutral skills-training," he said.
The Circe Institute, a classical education resource nonprofit, states that other common features of the classical model include "the use of classical books and art, a general preference for great art, music, and literature, an integrated curriculum, and idea-focused teaching."
Demand for this model of education is growing, according to The Association of Classical and Christian Schools, which states that "classical Christian education has seen the fastest, most consistent growth of any private school movement in the U.S."
Peterson at the University of Dallas told The Fix that his program was founded when Great Hearts Academies, a network of public K-12 classical charter schools in Arizona, Florida, Louisiana and Texas, contacted the university for help with its growing demand for teacher training.
"Great Hearts had reached out to us about the need for a graduate program in classical education, and we had heard from other quarters as well about the need for such a program," he said.
Great Hearts Academies' goal is to "cultivate the minds and hearts of students through the pursuit of Truth, Goodness, and Beauty," according to its website.
Eastern University, a Christian university near Philadelphia and home to a Master of Arts in Teaching in Classical Education, defines its classical model as pursuing "the integrated flourishing and formation of students in six fundamental areas—the intellectual, moral, aesthetic, spiritual, physical, and practical," according to its website.
"It typically pursues these by immersing students in a thick school culture and leading them through a curriculum that includes gymnastics, languages, the traditional liberal arts, natural science, humanities, fine arts, common arts, and the theoretical arts of philosophy and theology," the website states.
Brian Williams, a professor in the Eastern University's MAT in Classical Education program and dean of the Templeton Honors College, emailed The Fix about the origins and objectives of the program.
In designing the program, "We originally thought we might offer a track within it that led to teacher certification with the department of education, but quickly realized not only that most classical teachers aren't interested in state certification," Williams said.
"It's impossible to know what its impact will be," he said. "But as classical education becomes increasingly well known and becomes a regular part of the American education landscape, the Templeton Honors College will be there preparing its teachers and leaders to carry this wonderful tradition forward to the next generation with greater depth, clarity, and coherence."
Williams also edits a peer-reviewed journal, Principia: A Journey of Classical Education, and is an Academic Board Member of the Classic Learning Test, according to his bio.
Florida passed legislation in May accepting the CAT as an alternative to the SAT and ACT for state college admissions, The Fix reported at the time.
Hillsdale College in Michigan opened its Graduate School of Classical Education in 2022, according to its website.
The program coursework "draws from great works of the Western tradition and provides students with opportunities to grow in their understanding of classical pedagogical practices," according to Hillsdale.
The program caps at 20 students and is based around "classic core texts from the Western and American traditions of educational thought," which range from The Bible to Plato's "The Republic" to fictional works like Herman Melville's "Moby Dick."
The Fix previously reported on the University of Florida's Hamilton Center for Classical and Civic Education on March 8, which began offering courses that semester.
UF spokesperson Brittany Wise told The Fix, "By offering an integrated suite of courses focusing on the Western intellectual tradition, and particularly the American founding, we hope to help students develop the knowledge, habits of thought, analytical skills, and character to be citizens and leaders in a free society."
MORE: New Utah-based private college aims to provide a classical education
IMAGE: MAT in Classical Education at Eastern University/Facebook
Like The College Fix on Facebook / Follow us on Twitter