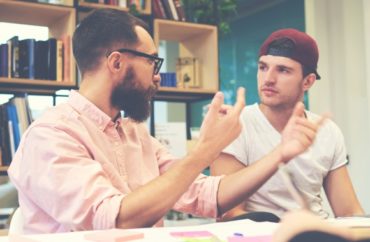 New report and poll offers data and strategies for protecting free expression against 'overwhelming evidence' of threats
Students' tendency to overvalue perspectives based on experience over knowledge, facts and logic can harm classroom discourse and university culture, according to a new report penned by a group of bipartisan scholars and administrators.
To resolve this, professors should teach students to rely on discipline-based norms of evidence, "so that students are neither unfairly burdened with expectations to speak nor excluded because of their experience and identity."
The advice was among several suggestions in the report, titled "Campus Free Expression: A New Roadmap," a guide for college leaders to foster academic freedom and open debate.
Free speech on campus is endangered, and college leaders need to step up to protect it, according to the November 2021 report released by the Bipartisan Policy Center, a Washington, D.C.-based policy think tank. 
"There is enormous survey research and other evidence that the intellectual climate on many college and university campuses is being constrained," the report stated.
Presidents can promote free speech by "identifying gaps in the range of viewpoints on campus and taking steps to fill them," the authors write; that may mean hiring more conservative academics on liberal campuses, for example.
Students should be encouraged to respectfully disagree and avoid self-censoring and shaming professors and fellow students on social media, and university leaders should bring in qualified speakers from across the political spectrum, according to the report.
The authors examine possible sources of campus intolerance, including political polarization, ideological conformity, and the view — which they challenge — that free expression might be in conflict with diversity. 
Daniel Cullen, a professor of philosophy at Rhodes College in Memphis and contributor to the report, wrote in an email to The College Fix that there's danger in assuming free expression may conflict with inclusion — in other words, that limiting speech on academic issues may be necessary to allow all students to fully participate in intellectual life.
"There are many campus administrators, faculty and students who do believe there is an unavoidable tension between the values of free expression and 'inclusivity.' That attitude represents a serious threat to the free intellectual culture colleges and universities aim to foster," he said.
If the intrinsic purpose of the university is to seek truth, Cullen said, "on campus we have a duty to exercise our expressive freedom in a way that serves the goal of knowledge making."
"If we let scholarship be unimpeded, we'll maximize our chances of landing on truth—or get closer to it. That's why we are so concerned about the evidence of self-censoring." Students and faculty must pursue truth together, even findings contradict individuals' personal experience or make them feel uncomfortable.
After establishing their goal of promoting academic freedom and viewpoint diversity for the sake of truth and knowledge, the report goes on to advise university administrators, trustees, faculty and other leaders individually on what they can do to help. 
College faculty, for example, should teach the difference between perspectives based on experience and arguments based on evidence. The study noted that students' tendency to overvalue identity-based views can hinder debate, "particularly when it comes to some of the most fraught topics of our time, such as race, class, sex, and gender."
Leaders of student associations should affirm free expression but also allow "maximum latitude for students to enjoy the fellowship of those who share a faith, identity, or social and political ideas."
The report stresses that university leaders should use their power to uphold student and faculty freedoms.
"College leaders should use leadership capital to support a culture of free expression, including by publicly affirming that disagreement and viewpoint diversity are healthy in an academic and civic community," it stated.
In conjunction with the report, the Bipartisan Policy Center also released a poll, ​​Public Views on Free Expression in Higher Education, co-authored by Morning Consult, a privately held data intelligence company. The poll consulted more than 2,100 adults on their views on free expression on campus and elsewhere. 
The poll, published November 30, was titled "Public Views of Free Expression in Higher Education."
Though it was not authored by the task force that produced "Campus Free Expression: A New Roadmap," the poll's findings substantiated its conclusions and recommendations.
Eighty-three percent of respondents "strongly agree" or "somewhat agree" with the statement: "It is important education institutions create environments where a diversity of viewpoints are expressed."
However, only 63 percent said they trust colleges and universities to provide settings "where people feel comfortable expressing their beliefs, thoughts, ideas, and emotions about different issues."
The poll also found that a strong majority of respondents favored colleges and universities teaching viewpoint diversity and independent thinking — 88 percent of respondents answered that it was "very important" or "somewhat important" for colleges and universities to teach students to think independently; however, only 54 percent believe universities are doing an "excellent" or a "good" job achieving that goal. 
Additionally, while 82 percent said that higher education should familiarize students with "a variety of viewpoints including liberal, moderate, and conservative philosophies," only 46 percent rated schools as "excellent" or "good" at meeting that mark. 
The gap between adults' desire for universities to teach a range of views and the efficacy with which colleges are doing so underscores the major points of the bipartisan report. Colleges can and must do a better job at fostering free and productive truth-seeking.
Said Cullen: "We emphasize reviving a culture of free expression and inquiry, and that involves certain norms and habits … above all, an attitude of getting things clearer rather than seeking victory in a dispute."
Read the Bipartisan Policy Center report here and poll results here.
MORE: MIT cancels speaker over politics, so alumnus cancels donation in name of free speech.
IMAGE: Gaudi Lab / Shutterstock
Like The College Fix on Facebook / Follow us on Twitter