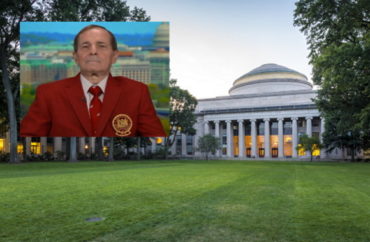 Tom Hafer is a Massachusetts Institute of Technology alumnus who cares deeply for his alma mater, so much so that he's withdrawing his financial support in order to help save it.
Hafer graduated from the private institution more than 50 years ago, but said in a telephone interview with The College Fix he cannot support the school until it renews its commitment to free speech and academic freedom.
He's helped launch an alumni group called the MIT Free Speech Alliance, which encourages other alumni with similar concerns to join in the effort to "advocate for MIT's support for free speech, open inquiry, and viewpoint diversity."
"What the free speech alliance is doing makes me have hope for MIT," Hafer said. "It shows me that if change is going to happen, it has to start with the people, and not the administration."
One of Hafer's main concerns is MIT's decision earlier in the fall semester to disinvite University of Chicago Professor Dorian Abbot as the keynote speaker for a prestigious annual lecture hosted by MIT's Department of Earth, Atmospheric and Planetary Sciences. Abbot is under fire for his criticisms of diversity, equity and inclusion.
Hafer is concerned about other issues, too. In a November column he co-authored for City Journal, he also referenced MIT's new mandatory diversity training.
"The compulsory videos contain deftly worded but fatuous questions implying that straight white males are at the 'intersection' of all oppressive behaviors," Hafer wrote. "Everyone else is an oppressed victim, with extra points for being a member of multiple minority groups. Thus, the concept of 'intersectionality" is a kind of conspiracy theory of victimization."
Hafer has publicly called for a debate between Professor Abbot and one of MIT's six new associate deans for diversity, equity and inclusion.
The university announced in late June that as "an important step forward in MIT's ongoing efforts to create a more welcoming and inclusive community, the Institute has hired six new assistant deans, one in each school and in the MIT Stephen A. Schwarzman College of Computing, to serve as diversity, equity, and inclusion professionals."
A MIT representative as well as Tracie Jones, assistant dean for diversity, equity, and inclusion in the School of Humanities, Arts, and Social Sciences, declined to comment to The College Fix.
Hafer told The College Fix campus leaders do not appear interested in the idea of a debate between any diversity deans and Abbot. He said administrators are trying to "sweep it under the rug."
Hafer said MIT is not only guilty of cancel culture, but more specifically the anti-scientific Soviet revolutionary tactics of Lysenkoism.
"I think what MIT is doing is much closer to Lysenkoism under Stalin in the Soviet Union," he said. "Making science political and persecuting those who disagree is a terrible thing."
In an email to The College Fix, Professor Abbot said the issues the alumni group are fighting for are important ones in higher education.
"Free speech and academic freedom protect the right of the activists involved to argue that my lecture should be canceled and to say whatever they want about me. It is the responsibility of the department chair and university administration to make sure that lectures are not canceled because someone claims to be offended. Doing so inhibits the progress of knowledge and creates a tool for activists to use in order to prevent arguments they disagree with from being aired," Abbot said via email.
MIT is no stranger to cancel culture concerns, as the Foundation for Individual Rights in Education points out. In 2020, MIT chaplain Daniel Moloney was forced to resign after students and alumni complained that Moloney brought up George Floyd's past criminal history in an email to students.
Moreover, at "two MIT faculty forums in October and November of 2021, a secret ballot revealed that more than half of faculty feel that on an 'everyday basis,' their voices, and the voices of their colleagues, are constrained by MIT. Over three quarters worry that their voice or their colleagues' voices are 'increasingly in jeopardy,'" FIRE reported.
MORE: MIT chaplain forced to resign after citing George Floyd's rap sheet to students
Like The College Fix on Facebook / Follow us on Twitter