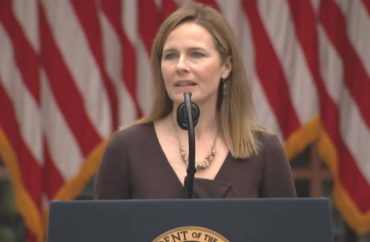 'In an intelligent free society we need to disseminate ideas in a robust form'
The publisher of Justice Amy Coney Barrett's forthcoming book rejected calls by some in the publishing industry and academia to cancel it.
Penguin Random House confirmed Monday that it remains "committed" to publishing a forthcoming book by Supreme Court Justice Amy Coney Barrett despite an online petition against it, The Wall Street Journal reported October 31.
The petition has garnered more than 700 signatures and counting from editors, writers, academics and others as of November 4.
The College Fix reached out to the Sentinel, the conservative imprint at Penguin Random House that will publish the book, to ask why the book was selected for publication, whether it had ever before revoked a book contract due to a petition, and whether it has any response to the signatories. It has not received a response.
The Fix also reached out to several signatories associated with academia, including Smith College English professor Carole DeSanti, University of Michigan Press coordinator Carl Levigne, Northwestern University Press editor Courtney Smotherman, and University of Chicago Press editor Kristen Raddatz.
The Fix asked them whether the Barrett case was a unique instance of "a corporation [privately funding] the destruction of human rights" in publishing. It also asked whether they would oppose the publication of the book by another outlet and whether they have ever opposed the publication of another text by Penguin Random House. Lastly, it asked if they had any comment on the Wall Street Journal article indicating that the book would be published. It has not received a response.
"We remain fully committed to publishing authors who, like Justice Barrett, substantively shape today's most important conversations," Adrian Zackheim, publisher of Sentinel, told The Wall Street Journal.
Sentinel "publishes books so that people can read them, and evaluate them on their own," Zackheim told the The Wall Street Journal. "In an intelligent free society we need to disseminate ideas in a robust form so that we can discuss them."
Zackheim told the paper that Barrett is still writing the book, and it will likely come out in 2024.
Petition argues publication of the book would fund 'the destruction of human rights'
The petition argued that Barrett violated human rights by helping to overturn Roe v. Wade, and Penguin Random House would be complicit in this violation by offering her a high sum for the book.
"it is imperative that publishers uphold their dedication to freedom of speech with a duty of care," according to the petition.
"This is not just a book that we disagree with, and we are not calling for censorship. Many of us work daily with books we find disagreeable to our personal politics," the petition stated "Rather, this is a case where a corporation has privately funded the destruction of human rights with obscene profits."
"Coney Barrett is free to say as she wishes, but Penguin Random House must decide whether to fund her position at the expense of human rights in order to inflate its bottom line."
Jonathan Turley, a professor at George Washington University School of Law, told The Fix in an email that he disputes the petitioners' claims that they are not engaging in censorship.
"These editors and writers are engaging in classic censorship based on their disagreement with the jurisprudential views of Justice Barrett," he wrote. "Calling this a human rights issue is a rather thin fig leaf…Those who have sought to silence others have always cited overriding values from national security to morality to equity. It is not the motivation but the means that define censorship."
"Penguin Random House is correct in standing with free speech," Turley continued. "The problem is that these are the editors and personnel who often make the decision to select a book. They have clearly stated that they will not support books that advance views that they oppose. This is why it is harder for conservative or dissenting views to be published today."
Seven hundred and sixteen members "of the writing, publishing, and broader literary community," including many editors and authors at Penguin Random House and elsewhere and several academics, have signed as of Friday morning.
Barrett's book, sold last year with a $2 million advance, will focus "on how judges are not supposed to bring their personal feelings into how they rule, according to three publishing industry sources," Politico reported in 2021.
MORE: Rhodes College alumni call for Justice Barrett's removal from school's hall of fame
IMAGE: YouTube screenshot
Like The College Fix on Facebook / Follow us on Twitter