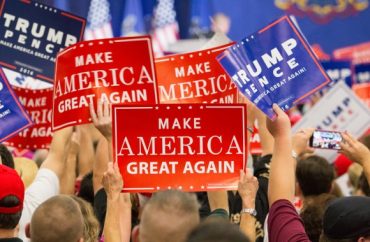 Clemson University Professor Bart Knijnenburg drew a firestorm of controversy two years ago when he said on his personal Facebook page that all Republicans are "racist scum" and additional comments that appeared to support violence against the GOP.
At the time, many denounced the statements made by the assistant professor in human-centered computing. They drew national headlines, steep criticism, and one state lawmaker even said he should be fired.
Fast-forward to today, and nothing much has changed, as a series of Facebook comments from January 2019 and last fall from Knijnenburg's personal account shows he continues to call all Republicans racist. He's leaving the scum part off, though.
"It's not just the president who's a racist. ALL republican politicians are racist, as they fail to oust assholes like Steve King and whichever coward yelled this," Knijnenburg stated, posting an article about a Republican congressman who shouted "Go back to Puerto Rico" toward Democrats after a group of them had visited there, ostensibly to inspect Hurricane Maria recovery efforts, although others accused them of essentially vacationing during the partial government shutdown.
The professor also commented underneath the article: "Honestly, as a person, if you're still aligned with the GOP at this point: ya racist."
Atop a story claiming that President Donald Trump told his former attorney Michael Cohen to lie, which would be a crime, the professor stated: "But of course this isn't going to change anything, because republicans like racism so much that they're willing to forgive treason." (Special Counsel Robert Mueller's office has since stated the report that Trump told his attorney to lie is untrue.)
The professor also posted that Trump "desperately deserves a slap in his ugly face," accusing him of anti-Islamic fear mongering for tweeting: "Border rancher: 'We've found prayer rugs out here. It's unreal.' Washington Examiner People coming across the Southern Border from many countries, some of which would be a big surprise."
In November, after Republican Cindy Hyde-Smith won a U.S. Senate runoff in Mississippi and was congratulated by Sen. Lindsey Graham, the professor posted: "Racist congratulates racist."
In something of a change of pace, he also took on Hillary Clinton that month, telling her to "F-ck off" over the headline: "Hillary Clinton: Europe must curb immigration to stop rightwing populists."
And in September he posted on Facebook: "Hey Republicans, YOUR president denied that 3000 US citizens died due to Hurricane Maria. YOUR president started a fight with kneeling NFL players rather than solving the problems they kneel for. YOUR administration's policies have led to thousands of child immigrants being detained. YOUR administration has rescinded an important campus sexual assault guidance. YOU are about to confirm someone accused of sexual assault to the supreme court. But please keep getting mad at me when I call y'all racist and sexist."
Both Knijnenburg and Clemson's media relations office would not comment to The College Fix about the social media posts.
Meanwhile, Knijnenburg also expresses controversial concerns on campus.
Recently, in response to a complaint regarding Clemson University's alma mater, he asked on Twitter: "Does @ClemsonUniv in this day and age have to brag about how 'her sons have fought and conquered every foreign land'? Sounds rather sexist and xenophobic to me. Not becoming of an internationally renowned university with many female and foreign students and faculty."
And he has joined with dozens of his peers in a signing a petition calling for the removal of Calhoun's name from Clemson's Honors College.
Knijnenburg made headlines in 2017 when he posted on Facebook: "All trump supporters, nay, all Republicans, are racist scum." He added "All Republicans? Yes. Your complacency made this happen. Pick a side: denounce your affiliation or admit you're a racist," as well as "I admire anyone who stands up against white supremacy. Violent or non-violent. This needs to stop, by any means necessary. #PunchNazis."
In response, President James Clements and Faculty Senate President Amy Lawton-Rauh said in an email to the campus community at the time that "expressions of hatred or violence have no place in our campus dialogue."
"No matter how strongly members of our community may disagree on a subject, we simply must be able to elevate our conversation to a point where we can respectfully and intelligently debate the issues we face," they continued.
MORE: Clemson divides students through 'See the Stripes' inclusion effort
Like The College Fix on Facebook / Follow us on Twitter