Cleveland-Marshall College of Law has initiated a discussion about changing its name amid growing concerns that Chief Justice John Marshall aggressively supported slavery.
Lee Fisher, dean of the college, has asked students, faculty, staff and alumni of the law school to provide feedback on the issue.
The brief survey asked respondents: "Please explain why you believe we should keep or change the name of our law school" and "If you believe we should change our name, what name would you suggest?"
"Removing 'Marshall' from our Law School's name would be a very consequential decision …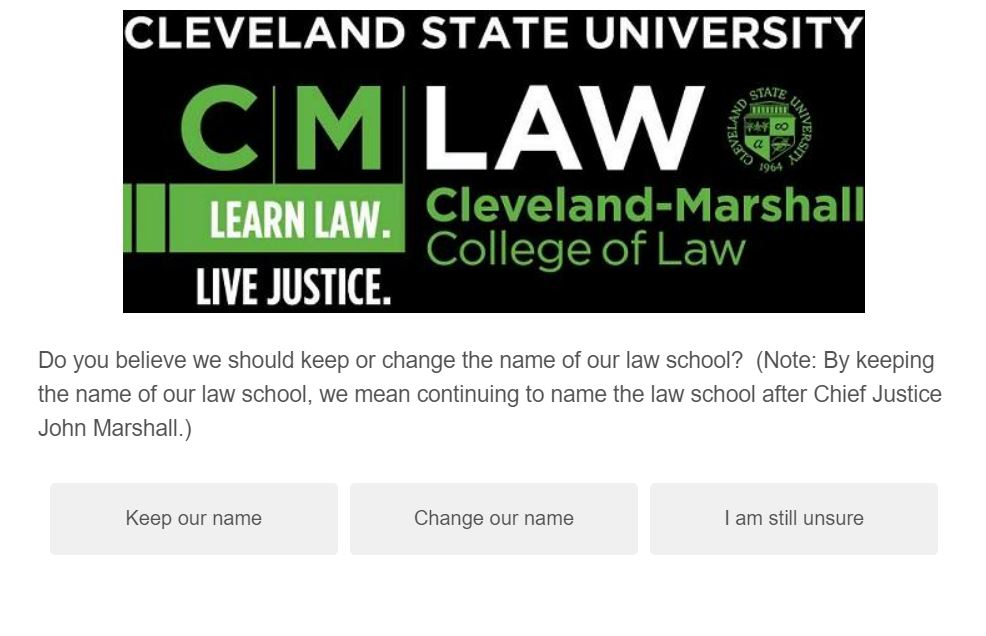 that requires careful study and thoughtful consideration of different viewpoints," Fisher said in an email to The College Fix.
According to Richard Brookhiser, a Marshall historian and senior editor for National Review, John Marshall served as chief justice of the U.S. Supreme Court for 34 years, "still a record," and he "ruled on myriad subjects of ongoing relevance–contracts, commerce, treason, how to interpret the Constitution itself."
"Marshall wrote (Fletcher v. Peck) that the past cannot be altered by the most absolute power," he said in an email to The College Fix. "Taking his name off Cleveland-Marshall College of Law will not punish or benefit the dead, though it may diminish our incentive to understand them, and their effects on us."
Hanna Kassis, a lawyer and founder of marketing firm OAREX, started a petition titled "Rename John Marshall Institutions" arguing that Marshall's legacy violates the "ethos" of society and perpetuates "systemic racism."
"Marshall's opinions upheld slavery, denied many freedom, and supported the slave trade," the petition stated.
In the wake of such sentiments, Marshall's name was removed from John Marshall Law School in Chicago last May.
"Despite Chief Justice Marshall's legacy as one of the nation's most significant U.S. Supreme Court justices, the newly discovered research regarding his role as a slave trader, slave owner of hundreds of slaves, pro-slavery jurisprudence, and racist views render him a highly inappropriate namesake for the Law School," the school explained.
In a critique of that decision, an editorial in The Wall Street Journal at the time argued the decision represented "the go-to progressive indictment of American historical figures. Never mind that Marshall's muscular jurisprudence as Chief Justice from 1801 to 1835 forged a national government and economy powerful enough to finally smash slavery a generation after his death."
Joel Richard Paul, professor of law at the University of California Hastings Law School and author of "Without Precedent: How John Marshall Invented American Diplomacy," said the debate considering Marshall's actions should be done within its historical context.
"Marshall opposed slavery as a Virginia legislator, an attorney, and a Supreme Court justice. He took on cases on behalf of slaves against their owners pro bono," Paul said in an email to The Fix.
He said Marshall offered medical care to "at least one" slave and refused to break families apart through sale.
Marshall's influence in the courtroom assured that slavery was constrained as much as possible, he said; even while siding with the supermajority when necessary, "Marshall joined the majority so that he could then draft exceptionally narrow technical decisions that avoided any implication that slavery was protected by the Constitution."
"You need only read what southerners said about Marshall during his lifetime to appreciate the fact that Marshall went as far as any Virginian could to oppose slavery."
"We should acknowledge the stain [of slavery] on our history, and we should remember the cost in human lives. I do not believe that erasing our history serves us well or serves the memory of those who were enslaved," Paul said.
"We remember Marshall not for the evil of his slaveholding, but for his genius in breathing life into the Constitution so that it could become a dynamic force for progress in our society."
ALERT: Check out our Campus Cancel Culture Database
IMAGE: Change.org screenshot
Like The College Fix on Facebook / Follow us on Twitter