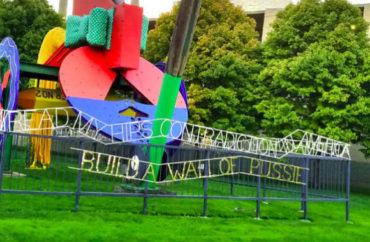 School will pay artist $50,000 for violating contract
Cleveland State University has settled a lawsuit by an artist who claimed the public university violated his contract by censoring his campus artwork.
The law firm representing Billie Lawless said CSU agreed to pay him $50,000, and he agreed to remove the controversial sculpture from this summer.
More than 10 years ago, Cleveland State signed a contract with Lawless to display his sculptures on campus and also to allow him to modify the sculptures over time. However, the school stepped in when Lawless modified his sculpture on display, titled "The Politician: A Toy," to include anti-President Trump messaging.
The school censored the phrase "BUILD A WALL OF PUSSIE" with a used homecoming banner despite the fact that his contract stipulated that the university could not "modify, disassemble or demolish" Lawless's sculpture.
Tweets from Lawless showed what the exhibit looks like, and what the lettering the school covered up looks like as well.
— Billie Lawless (@billielawless) November 29, 2018
The National Coalition against Censorship protested the move at the time.
Lawless and the school released a joint statement along with the settlement thanking "each other for their 10-year relationship":
The parties have worked together to amicably resolve their recent dispute. The Sculpture will remain on CSU's campus until mid-summer 2018. Any statements on the Sculpture are attributable only to the Artist, and do not represent the official position of the University. The parties wish each other well in all future endeavors.
The Foundation for Individual Rights in Education said last week that the university's censorship was out of step with its written speech policies, which earn a "green light" rating from FIRE, and its faculty's endorsement of the so-called Chicago principles for free speech.
"[W]e hope that other institutions view this as a warning about the potential financial risks incurred by censorship," it said.
Read the statement and FIRE's post.
MORE: Cleveland State sued for censoring sculpture
IMAGE: Billie Lawless
Like The College Fix on Facebook / Follow us on Twitter