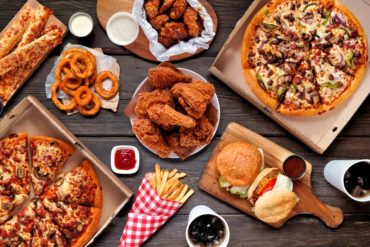 Labels can help 'nudge' customers toward 'sustainable choices,' professor says
Fast food consumers can potentially be guilted into buying products with less red meat and instead opting for more environmentally friendly options when "climate impact" labels are used, according to a taxpayer-funded study.
The paper, published in JAMA Network Open, concluded that labeling red meat options as "high–climate impact" made customers less likely to order those products.
The experiment, conducted randomly and online, asked participants to select from a fast food menu one item they would order for dinner.
Participants received different menus, a control group with neutral labeling, an experimental group with negative labeling on red meat and one with positive labeling on chicken, fish or vegetarian items.
Johns Hopkins University Professor Julia Wolfson provided further insights to The College Fix via email.
"[T]hese findings suggest that climate labels in fast food restaurants, particularly warning labels on beef items, help nudge consumers towards more sustainable choices," Wolfson said.
"We hope these findings are used by restaurants and public health practitioners to continue developing strategies to nudge consumers towards food choices that are both healthier for people and the planet," the public health professor said. "There is still more research to be done to explore the effectiveness of climate labels in real world settings and in other types of food environments."
Other researchers on the team included Harvard University's Cindy Leung and Aviva Musicus, who is affiliated with both Johns Hopkins and Harvard.
The Fix asked how the research team wanted the findings used, if the researchers supported climate labeling laws and if there were any plans to experiment further at actual restaurants.
Among the group that received the negative emissions labeling on red meat, there was a 23 percent drop in the rate of participants that ordered one of those items when compared with the control group. There was a much higher impact of the negative labels on the customers' choices than there was with the positive labels on low-emissions options.
MORE: Professor argues the fast food industry is racist
"In response to dual concerns of climate change and human health, a growing body of research is focused on strategies to reduce consumption of red meat and encourage more sustainable options," the paper explained. "Climate impact menu labels may be an effective strategy to promote more sustainable restaurant food choices."
The researchers also suggested that "negatively framed, high–climate impact labels may easily be adopted in settings like workplaces, universities, hospitals, and other anchor institutions."
The researchers did note that participants could have been subjected to "social desirability bias," in which their choice was influenced by the perception of others. The researchers said that this could have overstated the impact of the negative labels.
Researchers on the project benefitted from federal funding, with the total grant amount at least partially supporting the project totaling more than $3 million between the National Institutes of Health and the National Science Foundation.
The Fix reached out to NIH public liaison Renate Myles to ask about the goal in funding such research, and whether the government agency planned to support future research on the topic but she did not respond.
MORE: In spite of campus hysteria, students still like Chick-fil-A
IMAGE: Jeni Foto/Shutterstock
Like The College Fix on Facebook / Follow us on Twitter