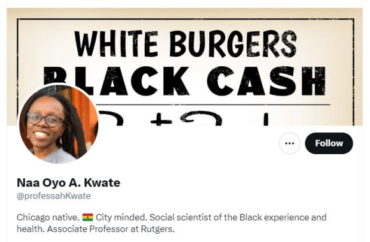 From the author of the forthcoming book 'White Burgers, Black Cash'
The University of Pennsylvania will host a talk this month by a scholar who argues the fast food industry is racist.
The speech is titled "Even the Bread Was White: Race, Space, and the Transformation of Fast Food Over the 20th Century." The virtual talk is slated for Feb. 15 and hosted by Penn's School of Nursing.
The lecture will be given by Rutgers University Professor Naa Oyo Kwate, whose faculty bio states she specializes in social determinants of African American health.
"In this Barbara Bates Center seminar, Naa Oyo Kwate, PhD, examines the ways in which fast food, America's 'national meal,' has shifted from its position of jealously guarded Whiteness and wholesome leisure to gauche, homogenized, anachronistic—and Black," the talk's online description states.
It adds the lecture will focus on the "disproportionate density of fast food in African American communities, a pattern that is not attributable to income or other population characteristics."
"And, because other studies have linked neighborhood exposure to fast food with obesity and other chronic disease, Black communities appear to be at greater risk for these negative outcomes. But how did these patterns come to pass? Fast food has undergone a complete inversion from its historical origins serving urban White workers and middle-class White suburban families to become synonymous with urban Black space."
Kwate is the author of the forthcoming book "White Burgers, Black Cash: Fast Food from Black Exclusion to Exploitation."
Y'all! My book is now available to preorder! White Burgers, Black Cash is dropping this May. https://t.co/NHXk3neV0l
I'd love your support for this project long time in coming. With thanks to @bryantterry and @Dr_CMGreer for such lovely blurbs!

— Naa Oyo A. Kwate (@professahKwate) October 27, 2022
Its online description states fast food "has historically been tied to the country's self-image as the land of opportunity and is marketed as one of life's simple pleasures, but a more insidious history lies at the industry's core."
The book "investigates the complex trajectory of restaurant locations from a decided commitment to Whiteness to the disproportionate densities that characterize Black communities today. Kwate expansively charts fast food's racial and spatial transformation and centers the cities of Chicago, New York City, and Washington, D.C., in a national examination of the biggest brands of today, including White Castle, KFC, Burger King, McDonald's, and more," according to its description.
Kwate also authored the short work "Burgers in Blackface: Anti-Black Restaurants Then and Now."
MORE: Norwegian university investigates if white paint is … racist
Like The College Fix on Facebook / Follow us on Twitter